About the Artists: Justyna Stasiewicz
Open Art Studio, 19 Chojnowska St.
4 May – 6 July, 2022
Opening hours:
Tuesday – Sunday: 12:00 – 18.00 p.m. (opened on demand)

The "Touch Me..." collection consists of six smaller series designed to encourage people to experience art collectively. The recipients interact with the designed objects and a strong bond is created. It is an experience not only on the art-recipient plane of but also on the recipient-art-other recipient plane. The collection is not meant to be considered in terms of beauty, ugliness or grotesqueness. It is meant to arouse our curiosity, to force us to look for the riddle hidden in an object, to encourage crossing the border which we often cannot cross in museums or galleries - namely taking a work of art in our hands. And it is by "touching that we learn faster than by merely observing from a distance".
The impulse to create these works was the author's reflections on aesthetics. Stasiewicz perceives unique jewellery as a branch of art bordering on sculpture and painting, and at the same time strongly relared to humans, close to the body, building a bond with the wearer. She considers it wrong to examine it from the perspective of the impression it makes solely through its appearance. She claims that it is impossible to fully perceive a jewellery work of art without coming into direct contact with it. It's the touch that allows to reach the places where we are not yet "anesthetized", to move the recipient incomparably more powerfully than it is possible through other senses. For good sight and hearing, which once largely ensured man's survival, no longer provide stimuli as strong, true and satisfying as they once did.
Above all, the artist wants her jewelry to create a strong, memorable experience when coming in contact with the recipient. As she says: "I believe that thoughts and words can be enclosed in a spatial form that becomes a tangible record of a moment, a feeling and a person".
The exhibition "Touch Me..." is Justyna Stasiewicz's doctoral thesis entitled "The impact of a work of art in the context of haptic aesthetics as exemplified by the author's jewellery collection." The thesis was prepared under the supervision of Professor Andrzej Szadkowski at Władysław Strzemiński Academy of Fine Arts in Łódź.
Justyna Stasiewicz comes from Koszalin. She graduated from the Faculty of Textiles and Fashion at Władysław Strzemiński Academy of Fine Arts in Łódź in 2013 and received her PhD in 2018. She works in the field of jewellery design and recently also that of pattern design with the use of 3D technology. She has participated in numerous exhibitions in Poland and abroad, including Kaliningrad, Munich, Chemnitz, Barcelona or Valencia. Her works are kept in the collections of the District Museum in Sandomierz and the Earth Museum of the National Science Academy (PAN) in Warsaw. She is the founder of jewelrydesign.pl website where she publishes articles on jewellery and its history.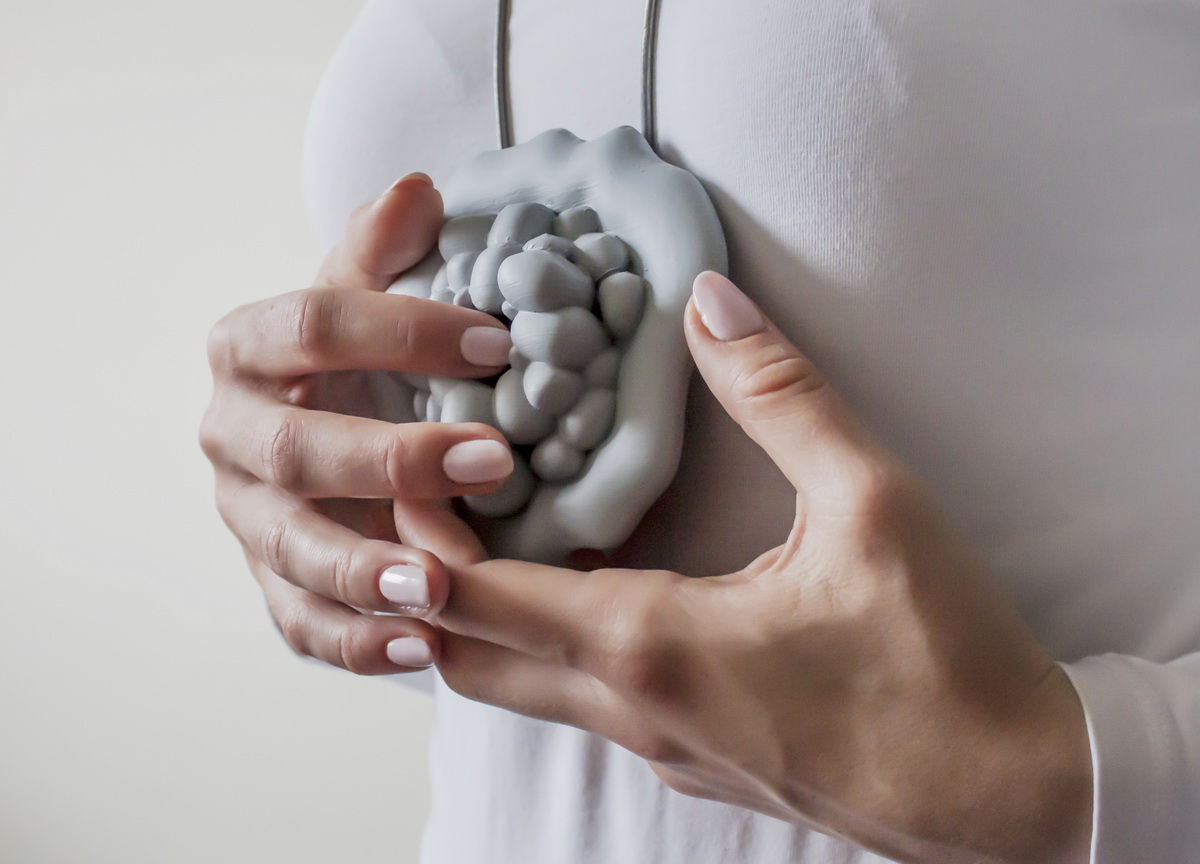 Hermaphrodite's necklace, PLA, dyed leather strap, modeling putty, 3D printing, 130x100 mm, 2017
Artist's signature wedding rings, silver 925, cast, 20x15 mm, 2017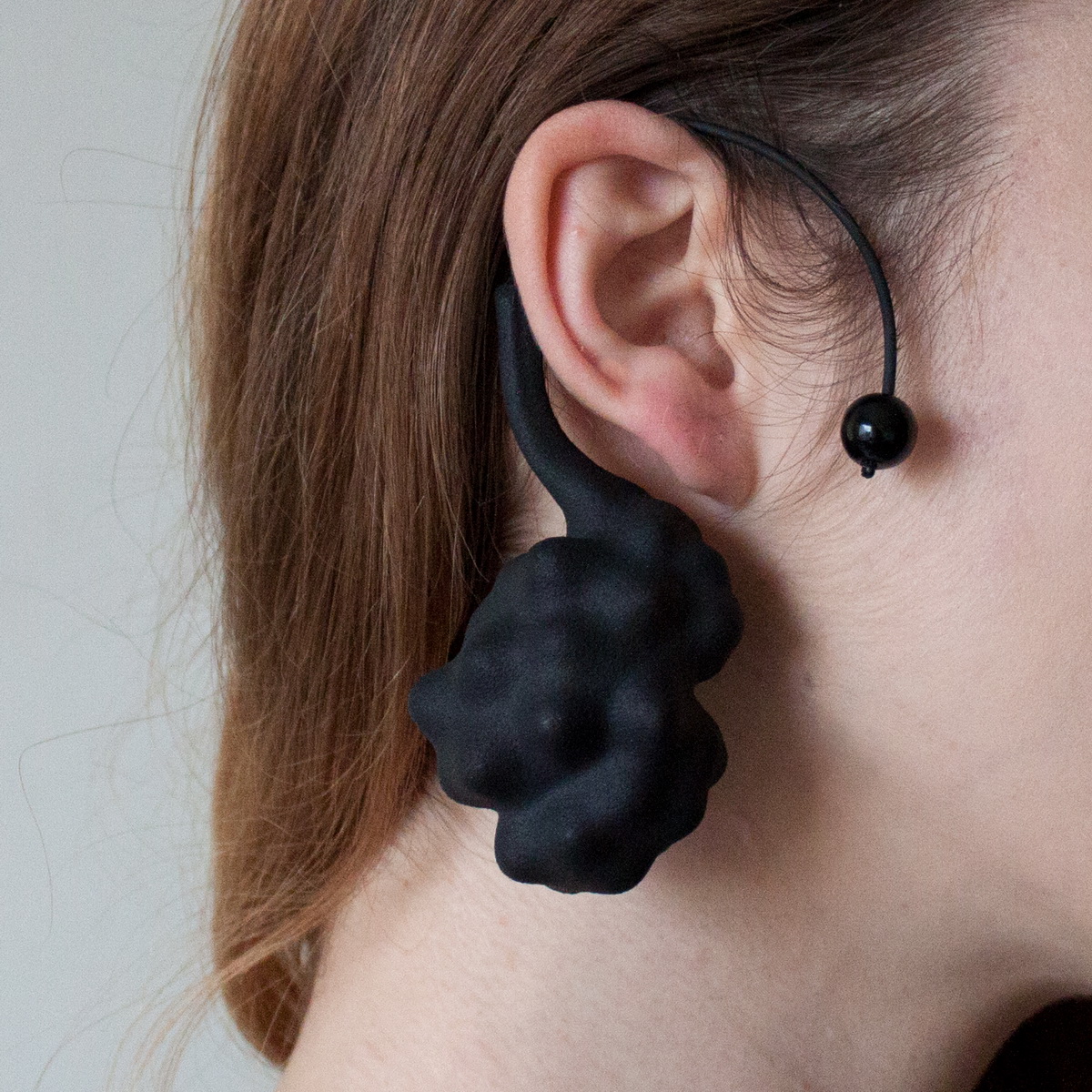 Collection of objects that are sensationelly similar earrings, polyamide, steel wire, rubber, 3D printing, 90x45 mm, 2017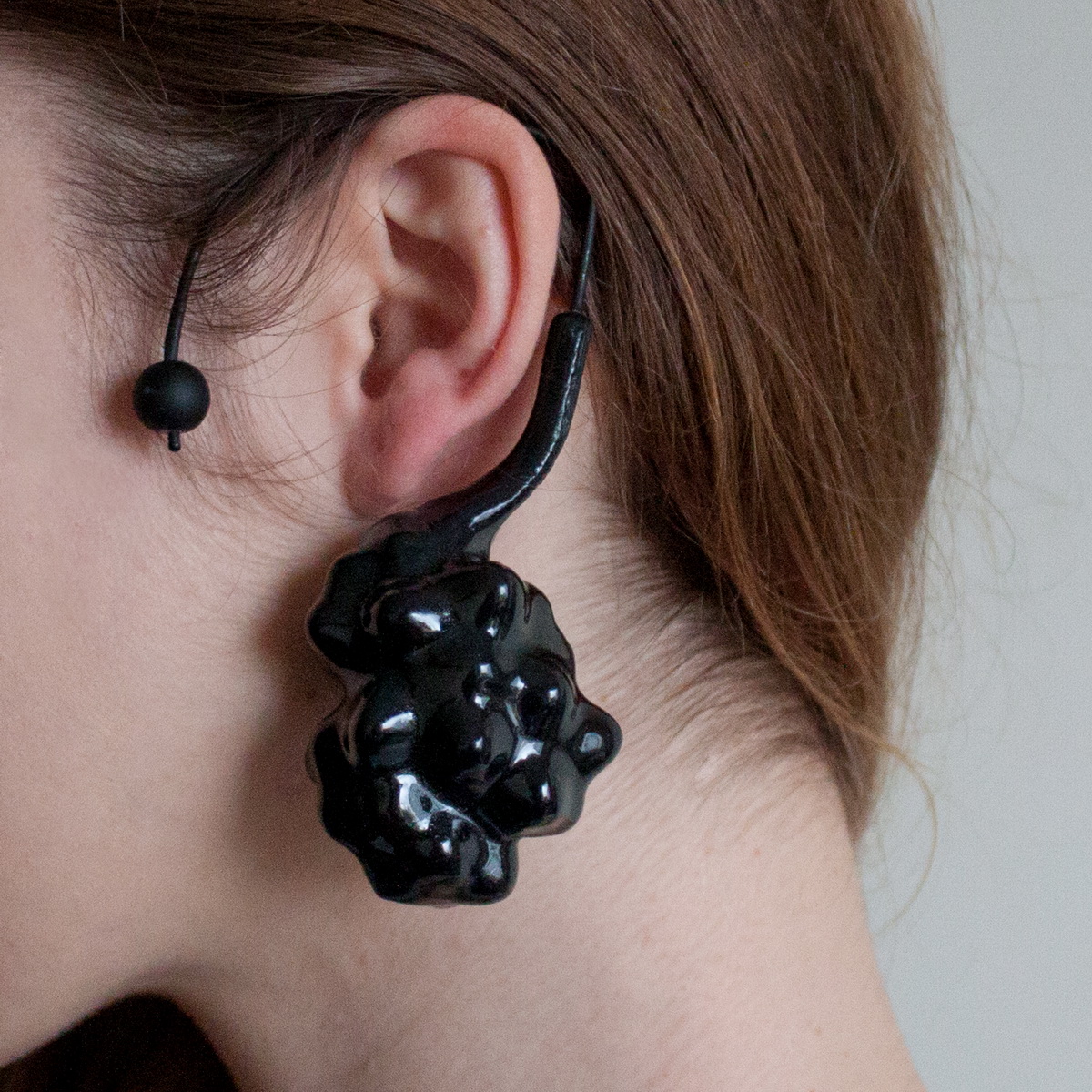 Collection of objects that are sensationelly similar earrings, ABS, steel wire, rubber, 3D printing, 90x45 mm, 2017