30th International Jewellery Competition TOUCH
The Gallery of Art in Legnica, pl. Katedralny 1
4 May – 6 July, 2022 
Opening hours:
Tuesday - Sunday: 12.00 - 6.00 p.m.
The cyclical International Jewellery Competition is the leading event of the Legnica Jewellery Festival SILVER organized by the Gallery of Art in Legnica since 1979.
The competition is dedicated to the designers and creators of contemporary jewellery and has been promoting creative explorations in the field of goldsmithing and, at the same time, creative statements on the problems of the contemporary world for over 30 years. The theme of the current edition of the Competition is TOUCH, a sense inseparably associated with the jewellery, carrying a special charge of intimacy and safety, but also - in times of a global pandemic and escalation of military conflicts - fear and danger.
The jury evaluated 426 works by 240 artists from 30 countries, qualifying works by 51 artists from 13 countries for the main exhibition.
This time - in the online era - we would like to refer to the feature that defines jewellery in its most material and - at the same time - the most sensual aspect.
Let us invoke touch - the first sense through which we get to know the world, which gives us a sense of security, intimacy and trust.
Jewellery worn on the body, coming into contact with skin receptors, provoking haptic contact, has always been the wearer's closest prop. We offer you a contemporary interpretation of this nostalgia in the hope that the objects of the most personal use will not be replaced by touch screens.
                                                                                                                                                                                                              prof. Sławomir Fijałkowski
Just as a piece of jewellery that is worn all the time is only noticed when it is taken off or missing, in recent times human touch has been acutely noticeable by its absence.  We have become most aware of the need for touch and connection but also the fear of touch as a source of contamination and danger. 
How can jewellery explore the sense of touch, physically and emotionally? What can the sense of touch convey?  What sort of touch?  How does it feel?  Could it comfort you?  Could it change you?  What might its impact be? How can this non-visual characteristic of jewellery be communicated?
                                                                                                                                                                                                             prof. Caroline Broadhead
The jury members:
Sławomir Fijałkowski – professor of fine arts. Graduate of the Academy of Fine Arts and Design in Łódź (Poland) – Jewellery Design, postgraduate studies at the Hochschule für künstlerische und industrielle Gestaltung Linz (Austria). He has worked in many private and public academies, currently he leads the Experimental Design Studio at the Faculty of Architecture and Design at the Academy of Fine Arts in Gdańsk. He deals with product and jewellery design in collaboration with recognized manufacturers and author's design. Participant, organizer and curator of many jewellery and design exhibitions, author of texts, analysis, theoretical and scientific descriptions, educational programs in the field of contemporary jewellery. From over 20 years he has been cooperating with Legnica Jewellery Festival SILVER, and every year he's a jury member in Legnica International Jewellery Competition. From 2020, he's a curator of the International Fair of Amber and Jewellery Amberif. Currently, the Amber Museum in Gdansk presents a retrospective, solo exhibition of Prof. Fijałkowski, which presents over 150 goldsmith's objects, mostly with the use of Baltic amber.
Sofia Björkman –  artist-goldsmith from Stockholm. After graduating from Konstfack in 1998, she founded PLATINA, a gallery and studio for art jewellery. Since then she has been working as an artist, gallery owner and curator. She exhibits internationally, collaborates with artists, curators, galleries, museums and institutions worldwide, gives lectures and workshops, and is a board member of the international organization AJF – Art Jewellery Forum, KRO Stockholm and Stockholms Hantverksförening.
Miroslav Cogan – PhDr, a theorist and art historian, graduate of Masaryk University in Brno,  curator of international jewellery symposia in Turnov since 1984 and curator of fine art and jewellery collections at the Museum of Bohemian Paradise, as well as an author of numerous publications on goldsmith's art.
Nastya Ivlieva – lives and works in Milan, (Italy). Jewellery insider and editor of LOST IN JEWELS digital magazine. She came to the blog as a jeweller but also a writer and interpreter in the fields of design, art and fashion. She studied Fashion Jewelry Design and Metalsmithing in the Milan Ambrosian School of Jewelry Making (Italy); obtained a degree in philology and cultural communication (Russian State University for Humanities, 2008). Her storytelling  platform features carefully curated fine, art and vintage jewellery in a lifestyle, cultural, historical and social context. She works as jewellery advisor and collaborates with jewellery companies as brand consultant, content editor and strategist.
Małgorzata Kalińska – graduate of the Academy of Fine Arts in Łódź (Poland), where she obtained a PhD degree in 2021. In years 2018-19, she was the head of the Jewellery and Goldsmithing Design Studio at the Faculty of Design of the Academy of Art in Szczecin (Poland). For 30 years he has been actively involved in the jewellery design and painting. Scholarship holder of the Minister of Culture and National Heritage. Participant of over 60 jewellery and painting exhibitions, author of 20 individual exhibitions. Winner of many awards – among them the YES Gallery award in the 29th International Jewellery Competition "Still Human?".
PARTICIPANTS OF THE EXHIBITION:
Bogumiła i Andrzej Adamscy (Poland), Violeta Adomaitytė (Lithuania), Miriam Arentz (Germany), Agata Bieńkowska (Poland), Mariana Bilbao (Spain)Andrzej Boss (Poland), Carla Castiajo (Portugal), Chi Young-Ji (South Korea), Mirta Congost Nualart (Spain), Agata Danielak-Kujda (Poland), Sophie van Dooren  (The Netherlands), Agnieszka Działo-Jabłońska (Poland), Anna Maria Eichlinger (Germany), Eva Fernandez (Spain), Julia Funk (Germany), Jolanta Gazda (Poland), Katarzyna Gemborys (Poland), Elena Gorbunova (Russia), Martin Grosman (Czech Republic), Karolína Hauserová (Czech Republic), Dorottya Hoffmann (Hungary), Tomáš Holub (Czech Republic), Jonathan Holz (Germany), Tadeusz Jaśkowiak (Poland), Laima Kėrienė (Lithuania), Marta Kleinrok (Poland), Hanna Kowalska (Poland), Sergiusz Kuchczyński (Poland), Beata i Karolina Legierskie (Poland), Peter Machata (Slovakia), Wojciech Małek (Poland), Claudia Milić (Germany), Joanna Muzyka (Poland), Maria Myrosznyczenko (Poland), Agnieszka Nowicka (Poland), Jasmin Nussbaum (Germany), Martina Obid Mlakar (Slovenia), Michalina Owczarek-Siwak (Poland), Sham Patwardhan-Joshi (Germany), Silke Rehermann (Germany), Rudolf M. Scheffold (Germany), Elisa Schneider (Germany), Yookyung Song (South Korea), Ulrike Strempel (Germany), Andrzej Szadkowski (Poland), Miroslava Veselá (Czech Republic), Zhipeng Wang (China), Hanna Wiklendt-Jensen (Poland), Zhang YuXuan (China)
Winners of the 30th Legnica International Jewellery Competition TOUCH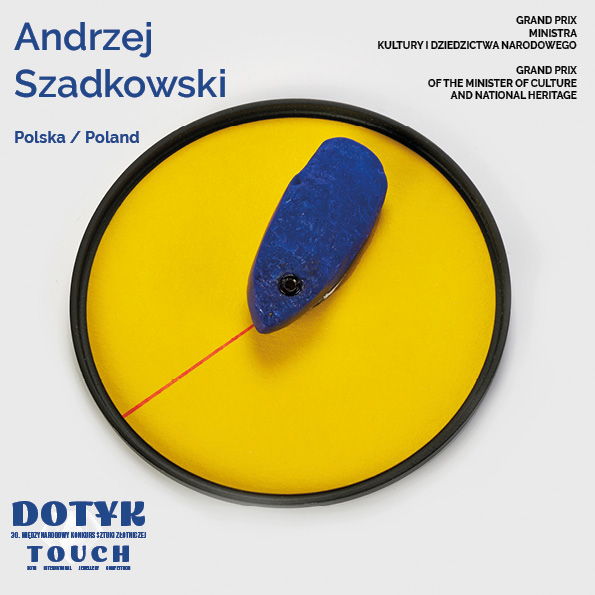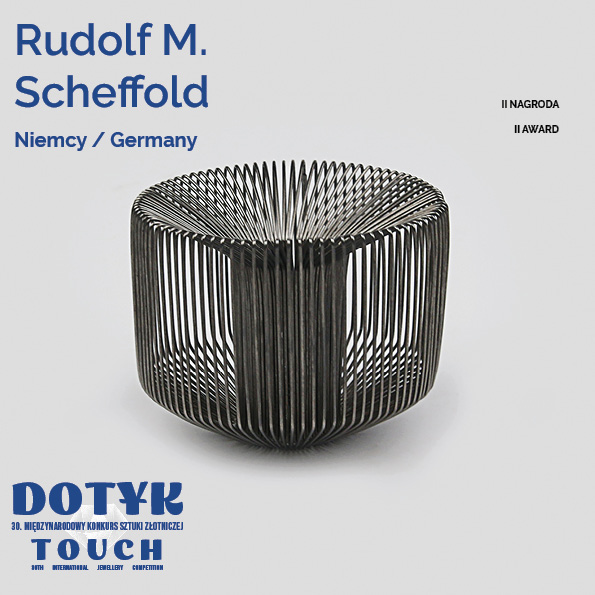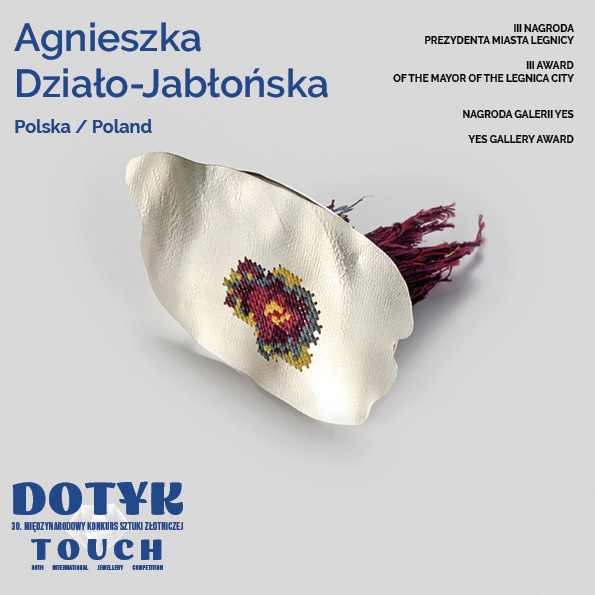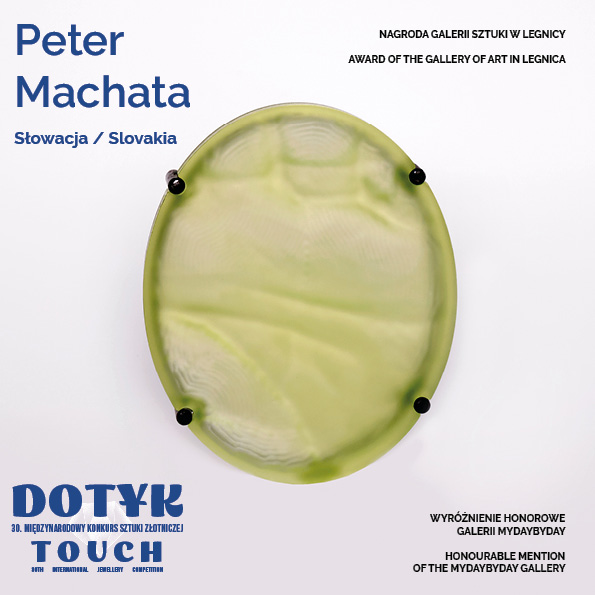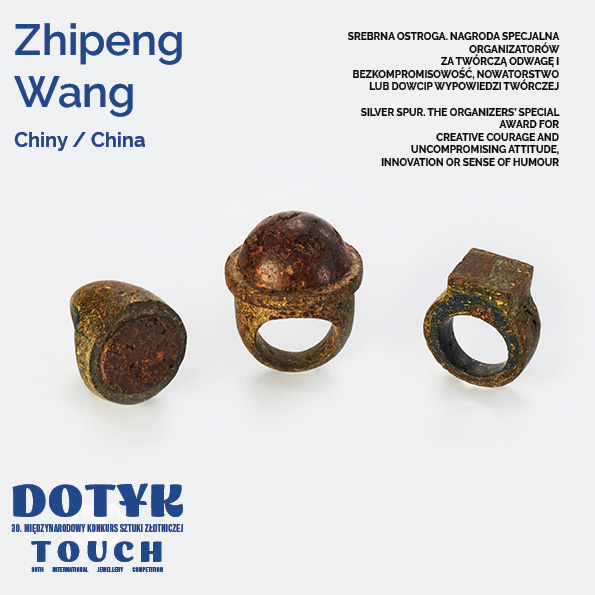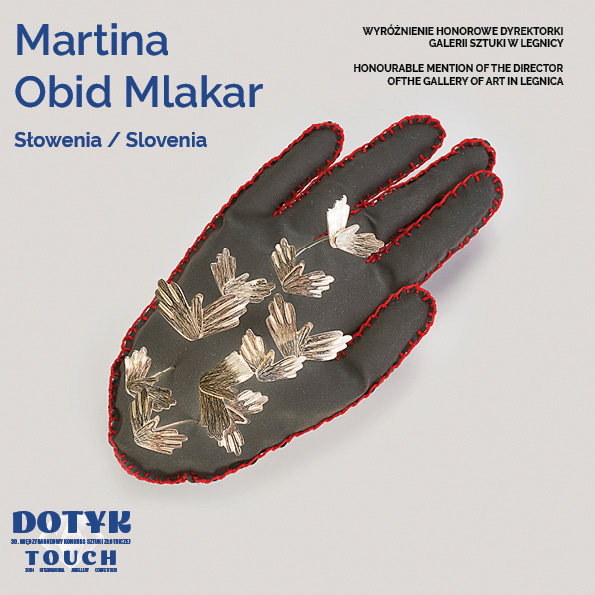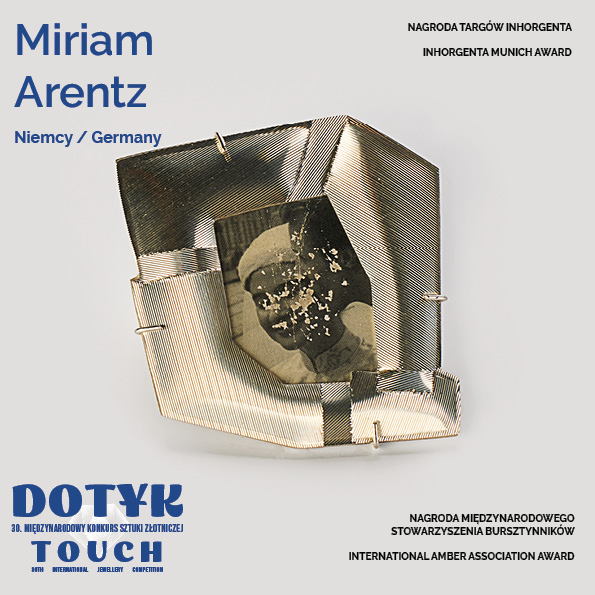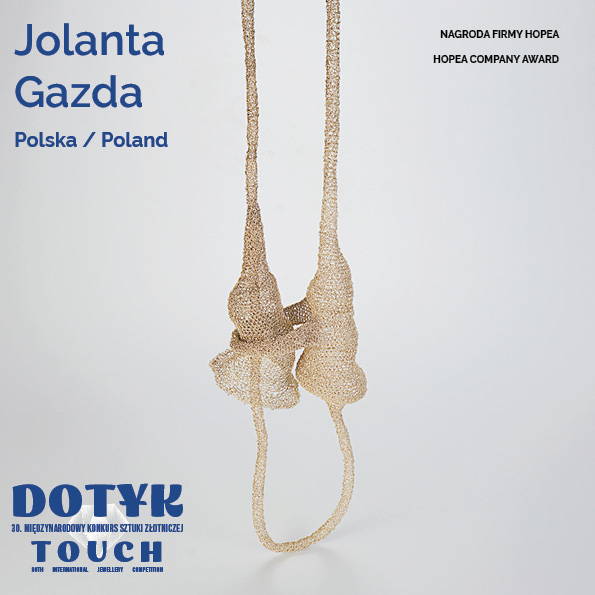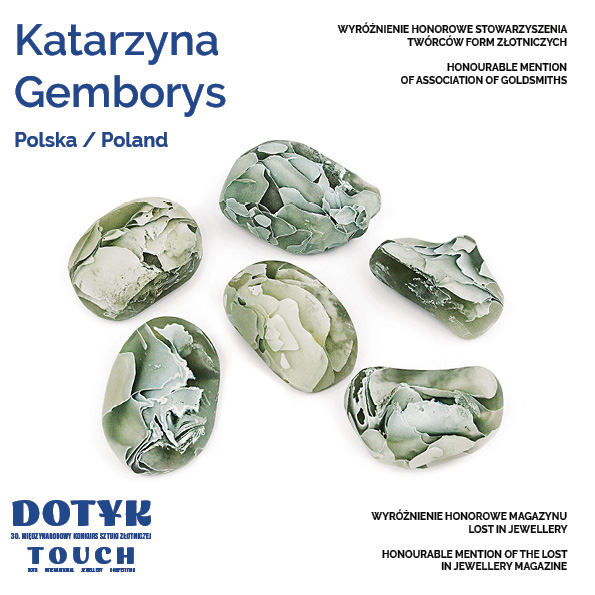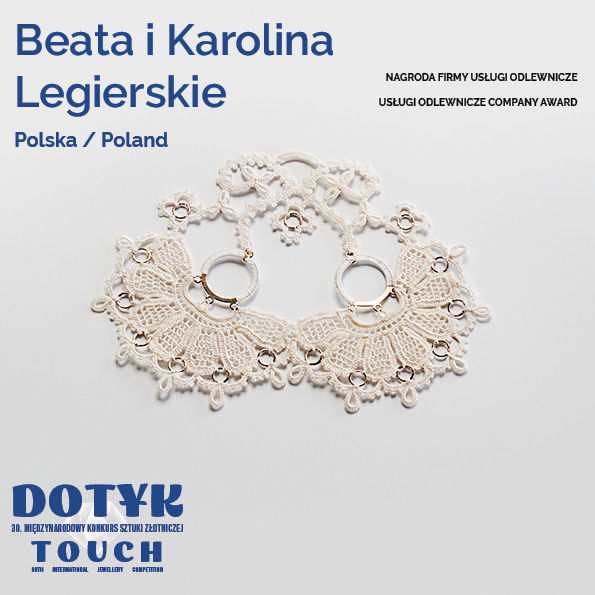 Works qualified for the exhibition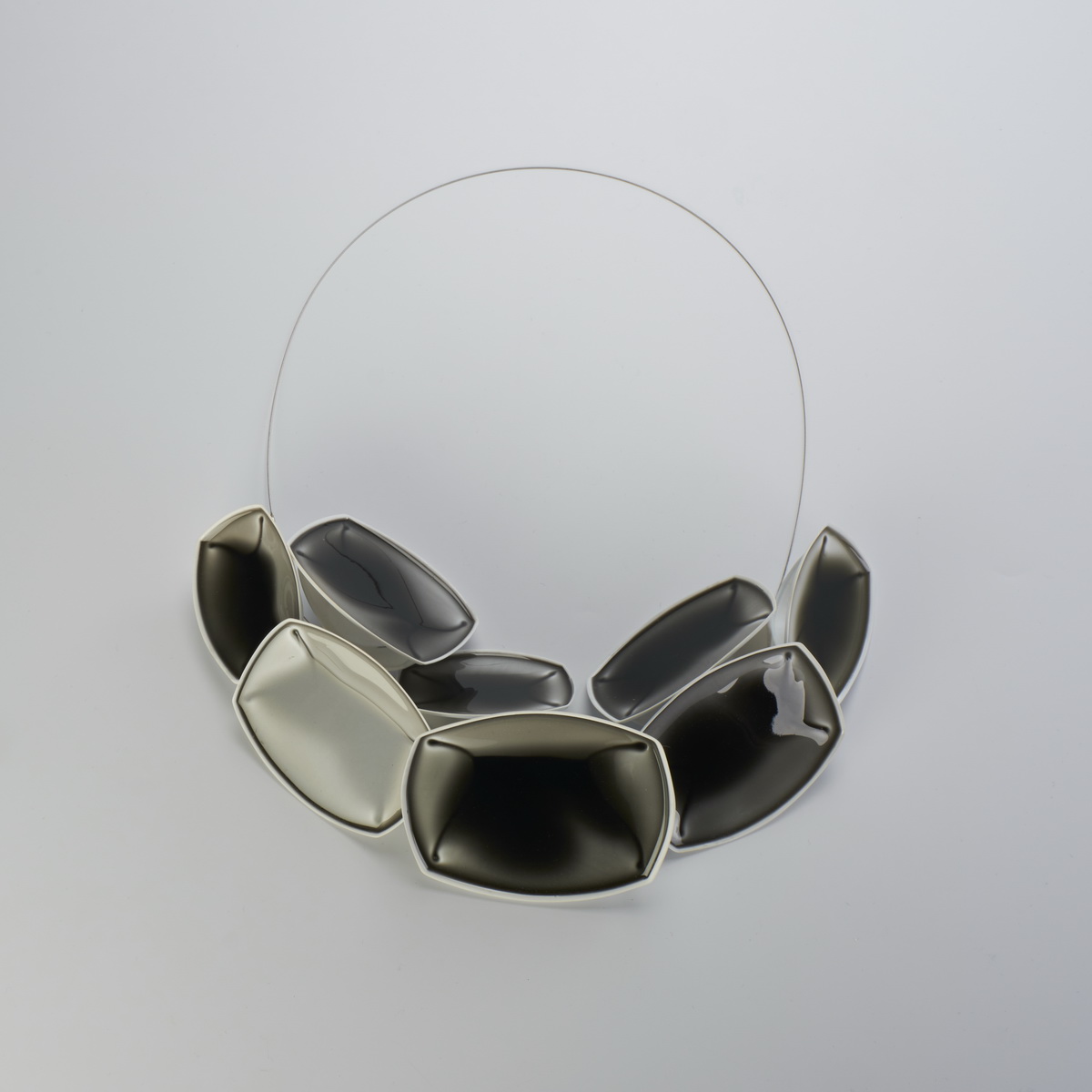 Silke Rehermann – Germany
Mirror of soul necklace, polyesterole, steel, silver, resin, deep drawing, 50 g, 240 x 300 mm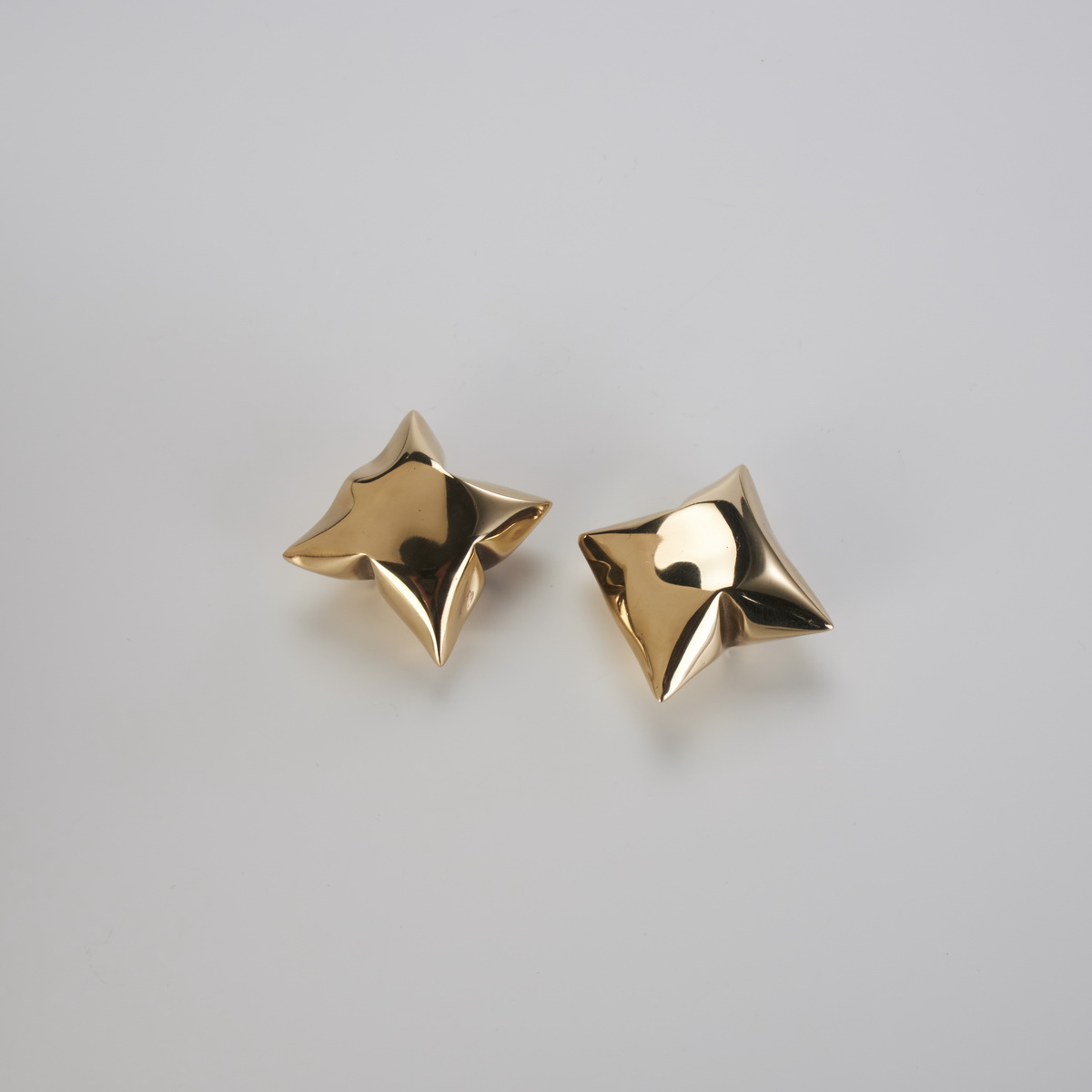 Wojciech Małek – Poland
Pillows objects, bronze, cast, 200 g, 40 x 35 x 20 mm, 35 x 35 x 23 mm, 2022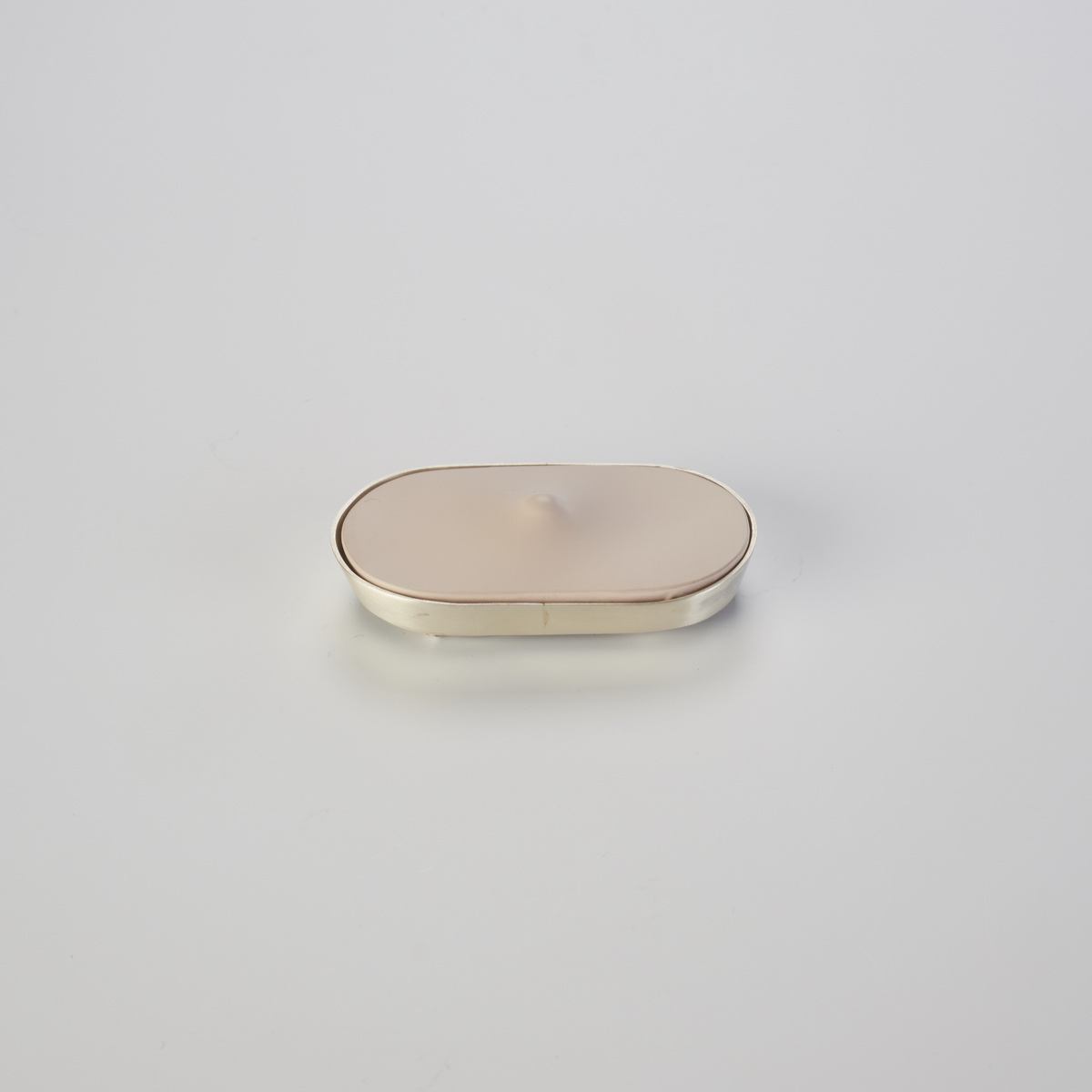 Tomáš Holub – Czech Republic
no title silver 925, foil barrisol, plexiglass, 30,6 g, 59 x 31 mm, 2022