For sensitivity in jewellery and sensitive jewellery. For reflection about life of the ocean, life of plastic, an attempt to save and restore our two great riches. For the creative act which allows the expression of the author's personality and style, thought the process of production. For reminding us that beauty is inherent to art, so inherent is a bold message and its domain to move our senses and our consciences - Justyna Teodorczyk argues the choice of the winner.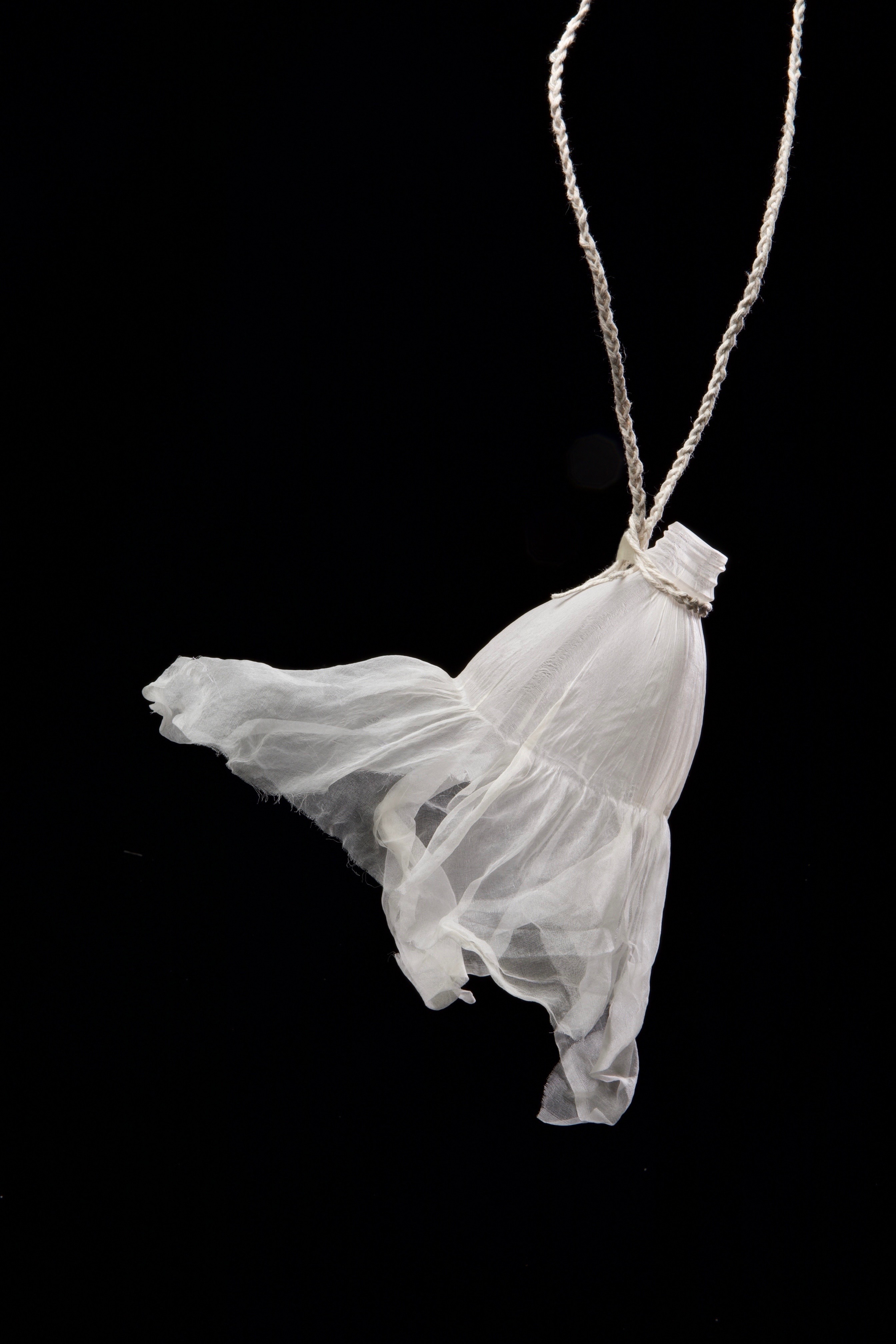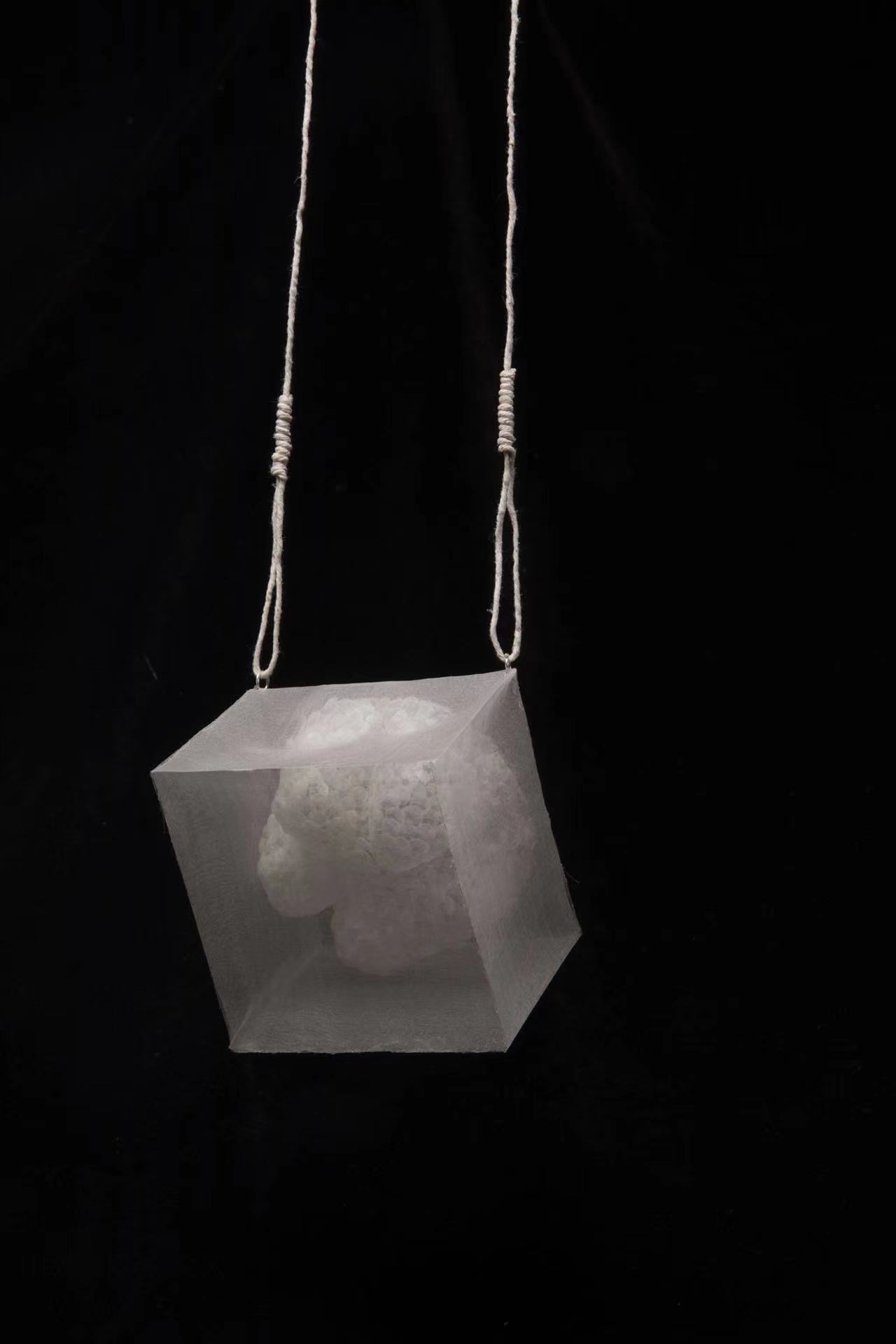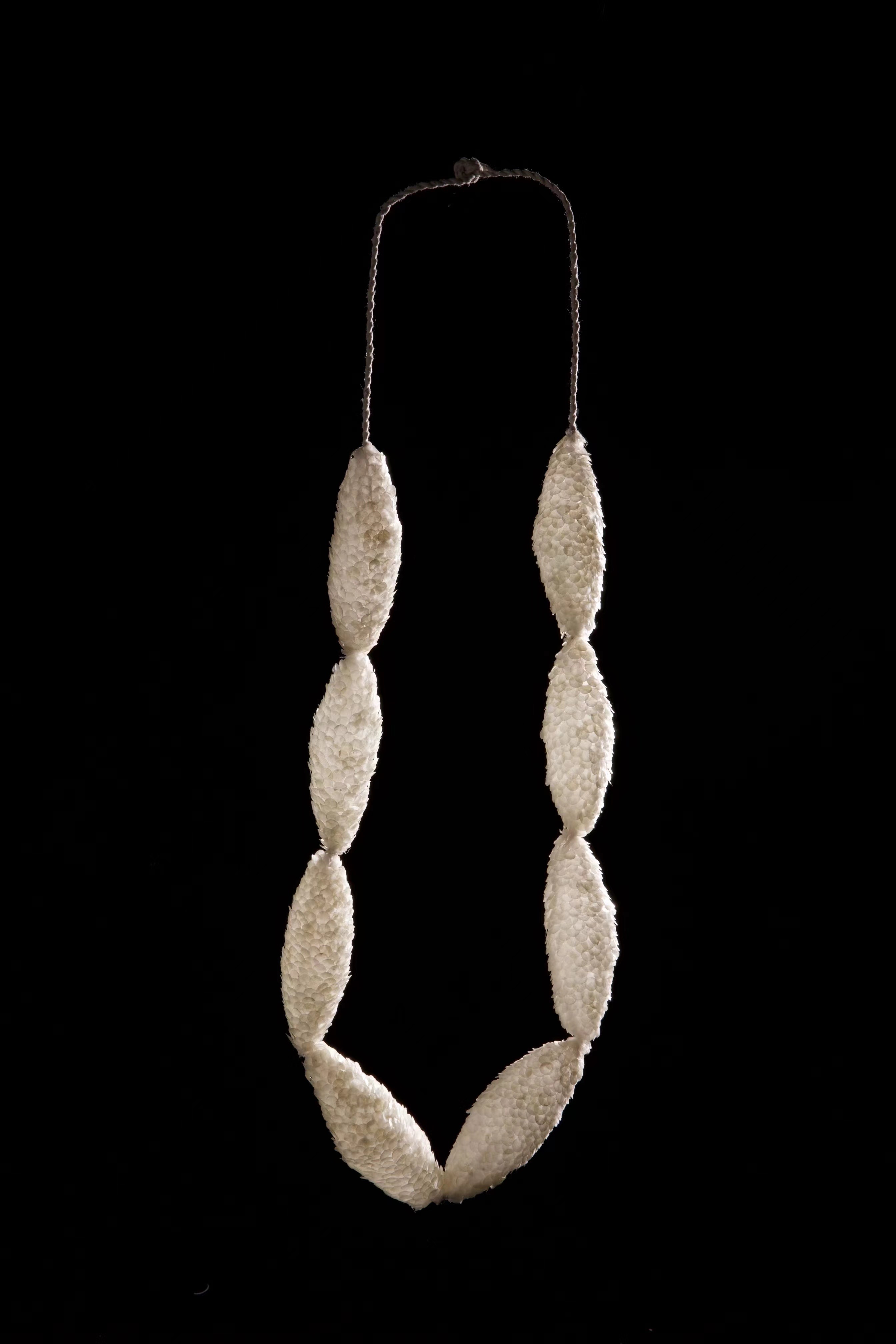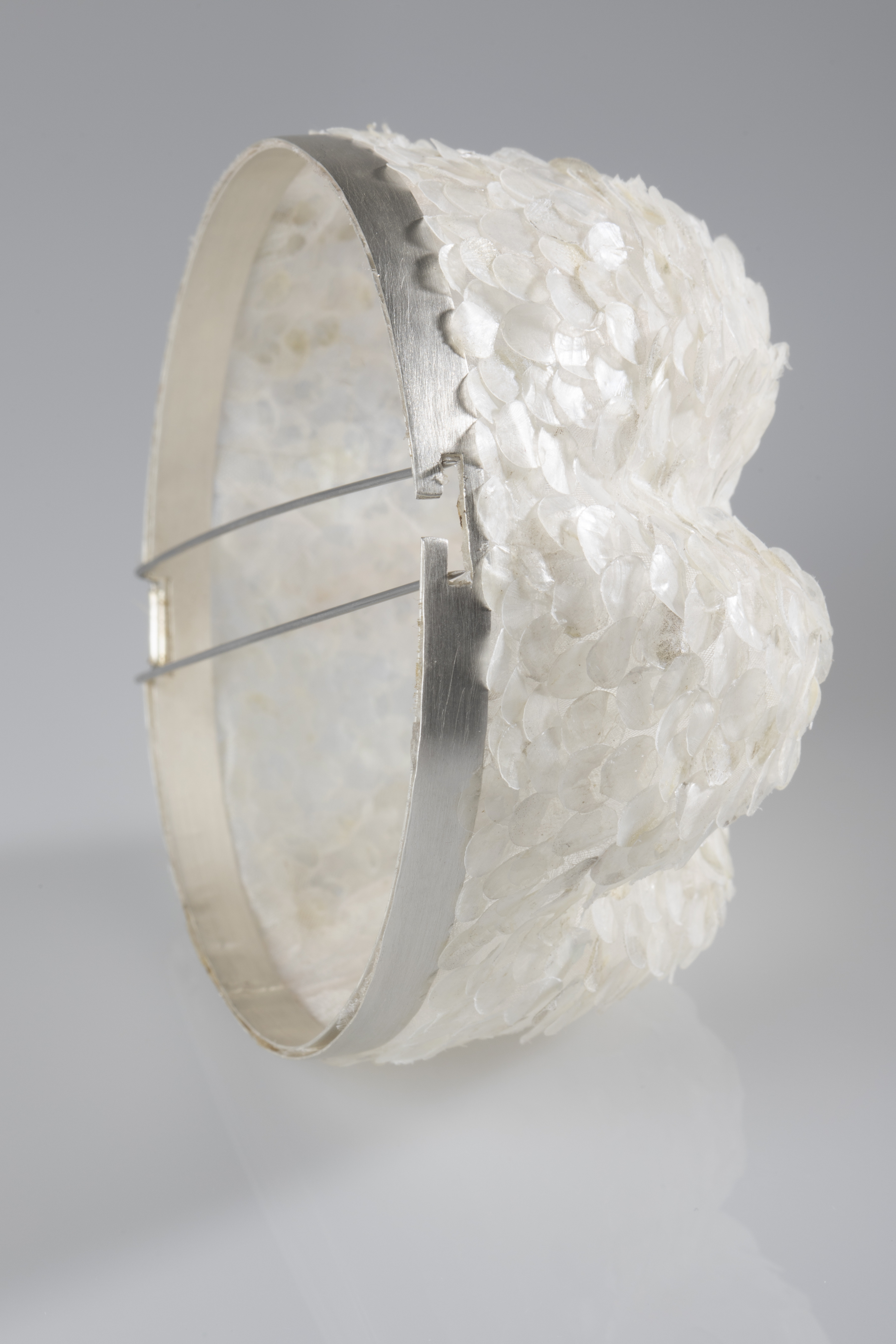 Our Gallery has also been invited for the second time to cooperate in the event. We presentated in Romania selected works qualified for the 30th International Jewellery Competition "Touch". The post-competition exhibition straight from Legnica went to the space of the Cotroceni Museum, located in a historic building on the grounds of the Presidential Palace in Bucharest.
The event included an online conference with the coordinator of the Legnica Jewellery Festival SILVER, who told about the possibility of participating in competitions and exhibitions of contemporary jewellery organized by the Gallery of Art in Legnica.
Works presented at the Cotroceni Museum: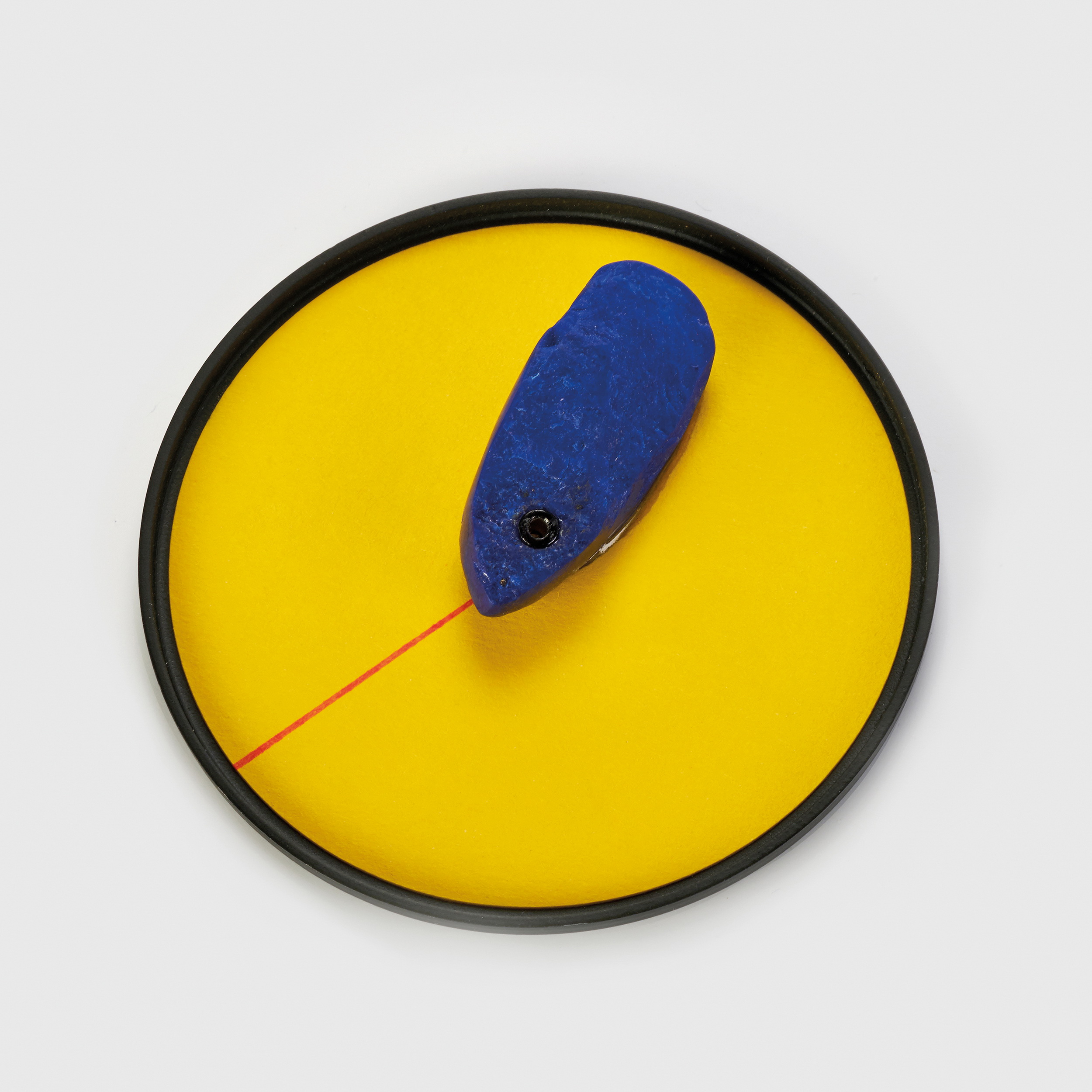 Andrzej Szadkowski – Poland
Painful Touch of Time brooch, silver, aluminum, lapis lazuli, paper, 28,7 g, 70 x 70 x 15 mm, 2022
Grand Prix of the Minister of Culture and National Heritage
Rudolf Michael Scheffold – Germany
Springtime bracelet, stainless steel, 17 g, ø 95 mm, 1997
II Award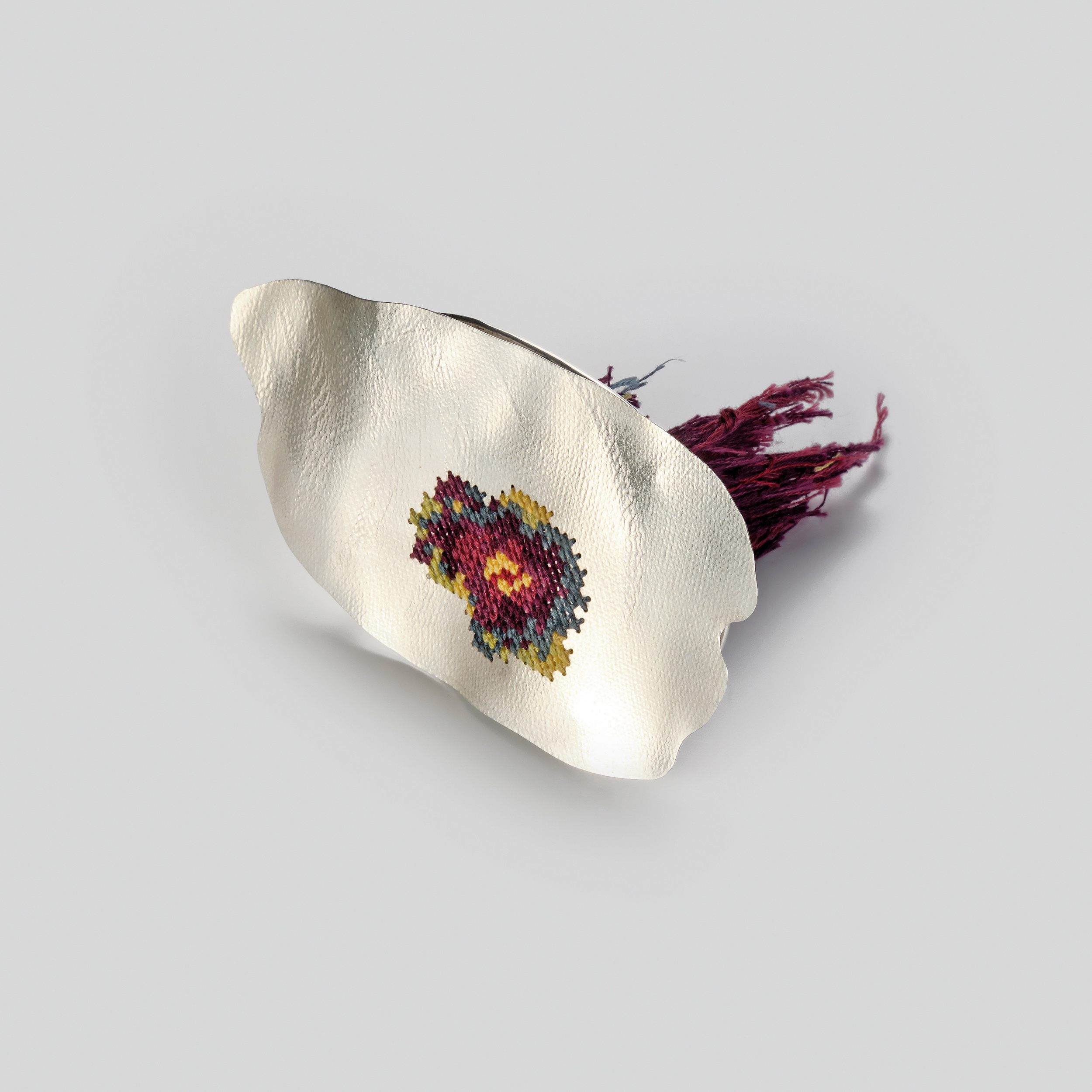 Agnieszka Działo-Jabłońska – Poland
Touch-painted love colours brooch, silver, mouline, 28 g, 120 x 65 mm, 2022
III Award of the Mayor of the Legnica City
YES Gallery Award
TOUCH-PAINTED LOVE COLOURS
We look for love, a sense of security, intimacy, and trust among our relatives… According to the conducted research, thirty percent of adult Poles indicated that they were the PERPETRATOR OF VIOLENCE IN THE FAMILY. Hence, it is over 9 million people in Poland! They are mostly men, but there are also women. In this group, 24% admitted to using psychological violence and 11% to physical violence. Statistics from other European countries do not differ in numbers... The offenders are the people around us, they are the people among us. Some of them, outside the home, have a reputation for being polite, kind and helpful. The phenomenon of violence is not influenced by social status, level of education or addictions. The abuser is often characterized by low self-esteem, emotional disorders, the need for power, poor self-control combined with the need to control others, a decreased levels of empathy and criticism, and lack of guilt. We only see the bruise. It heals overtime, the wound heals. But how to look inside, how to recognize if it is just an innocent mark on the body or the top of a tangle of feelings that destroy the victim? The devastation of the interior deepens with each offensive word, with every blow. How to help stop the penetrating deeper and deeper panic fear, shame, humiliation, anger at the torturer and at himself...? A small number of abused people come for help. Even fewer of them undertake therapy and try to recover. Let us be attentive to other people, let us not underestimate the harm and disturbing symptoms. Are you a victim or witness of domestic violence? Be sure to call: National Ambulance Service for Victims of Violence "Blue Line" 800-120-002 (open 24 hours a day)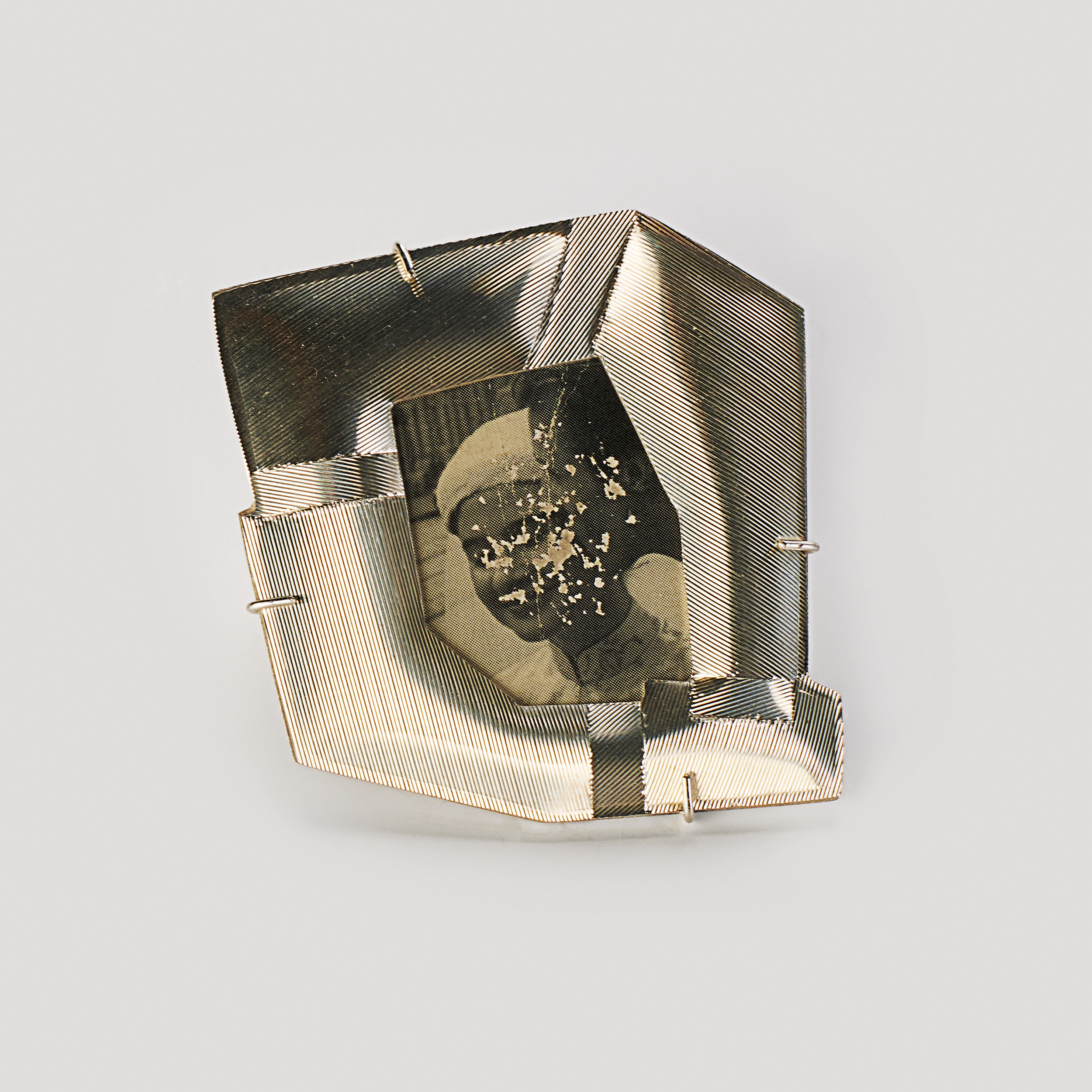 Miriam Arentz – Germany
Touched to Shreds brooch, silver, guilloche, 43 g, 65 x 60 x 5 mm, 2022
Inhorgenta Munich Award
International Amber Association Award
Inspired by these lines from a poem by Gunnar Ekelof:
"The black image
Framed in silver
Worn to shreds by kisses…"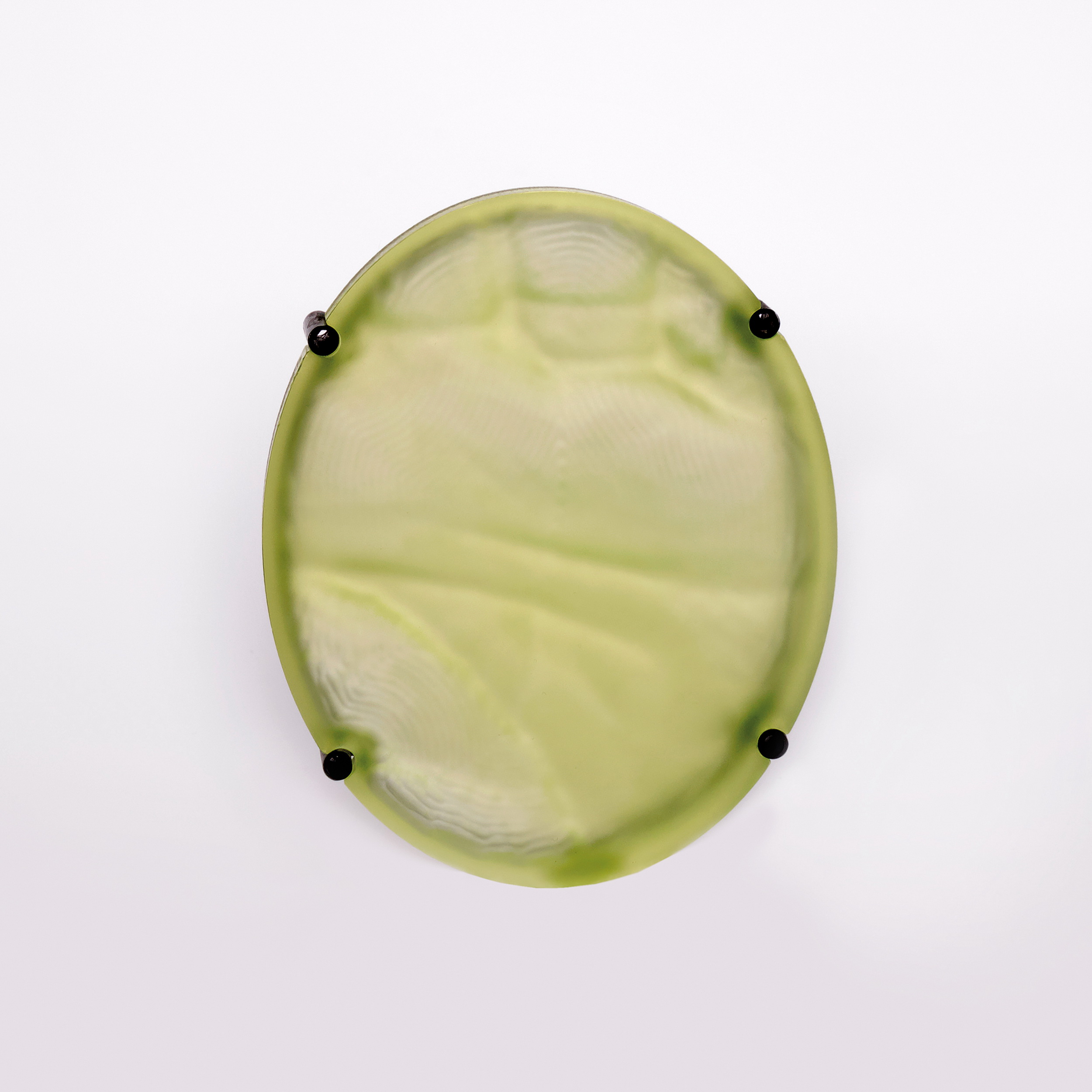 Peter Machata – Slovakia
Portrait… brooch, plexiglass, silver, 32 g, 85 x 65 x 15 mm, 2021
Award of the Gallery of Art in Legnica
Honourable Mention of the Mydaybyday Gallery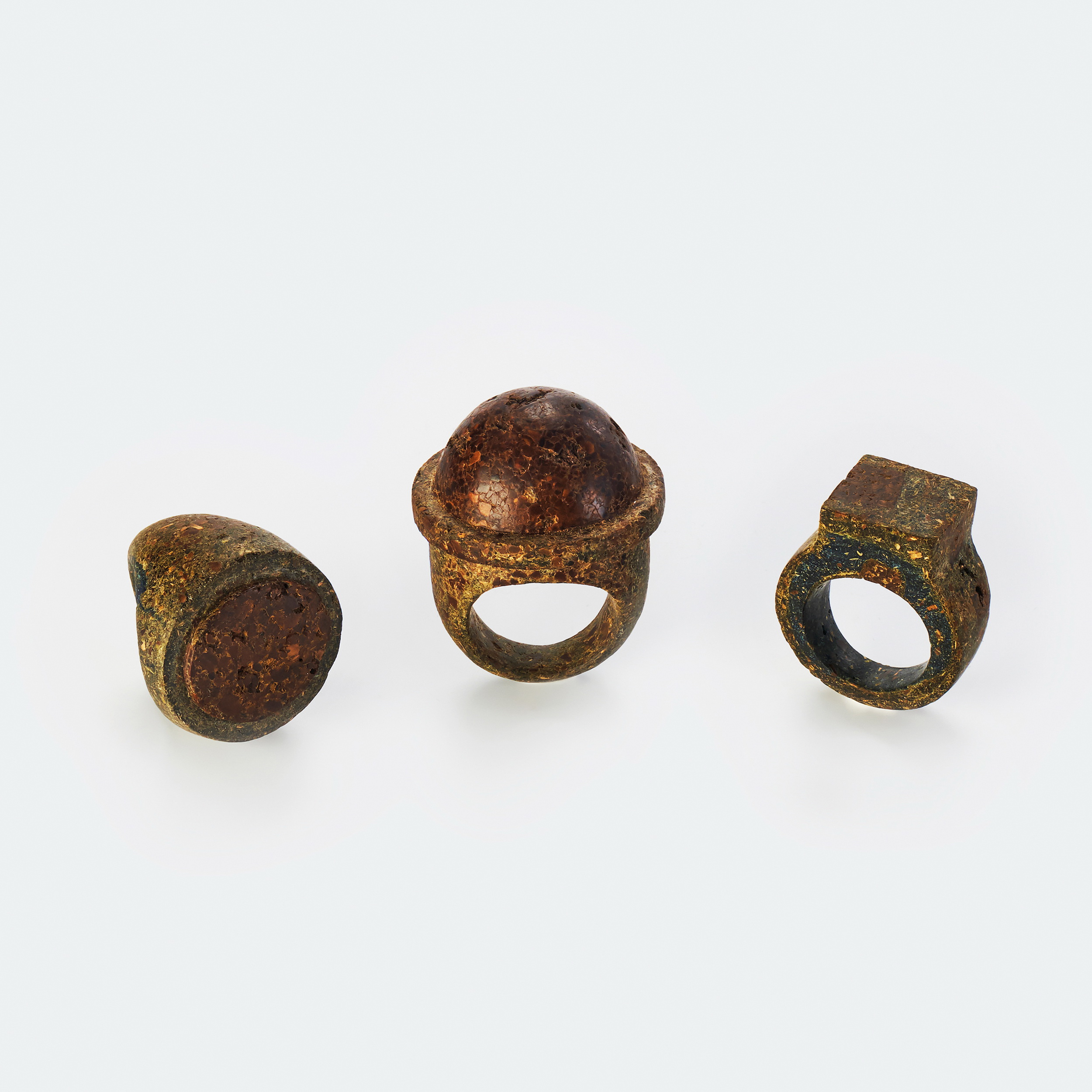 Zhipeng Wang – China/Germany
Untitled rings, Chinese tea, German coffee, spirulina, 10 g, 35 x 35 x 44 mm; 17 x 28 x 32 mm; 6 g, 29 x 30 x 32 mm, 2021-2022
Silver Spur. The Organizers Special Award for creative courage and uncompromising attitude, innovation or sense of humour
As a Chinese living in Europe, the impact of drinking culture is particularly significant in my daily life. Tea is the representative of drinks with oriental characteristics, while coffee is the representative of drinks with Western characteristics. They have great similarities in origin and development. Their origins are full of mythological color and endowed with mysterious cultural images. In the early days, coffee was only circulated among aristocrats in Europe. And tea was also only suppled to the Emperor`s family in ancient China.
Signet ring as a symbol of identity and authority became an indispensable part of the middle ages Western aristocracy.
I try to fuse tea and coffee, combined with the traditional European signet ring to reinterpret and to create a contemporary identity ring of an ordinary Chinese living in Europe.
When people see the rings that I made for the first time, they always think they are carved in  stone and must be very heavy. But when people wear them they find out that the rings are actually very light. And the most interesting thing is that you can smell the aroma of coffee and tea from the rings.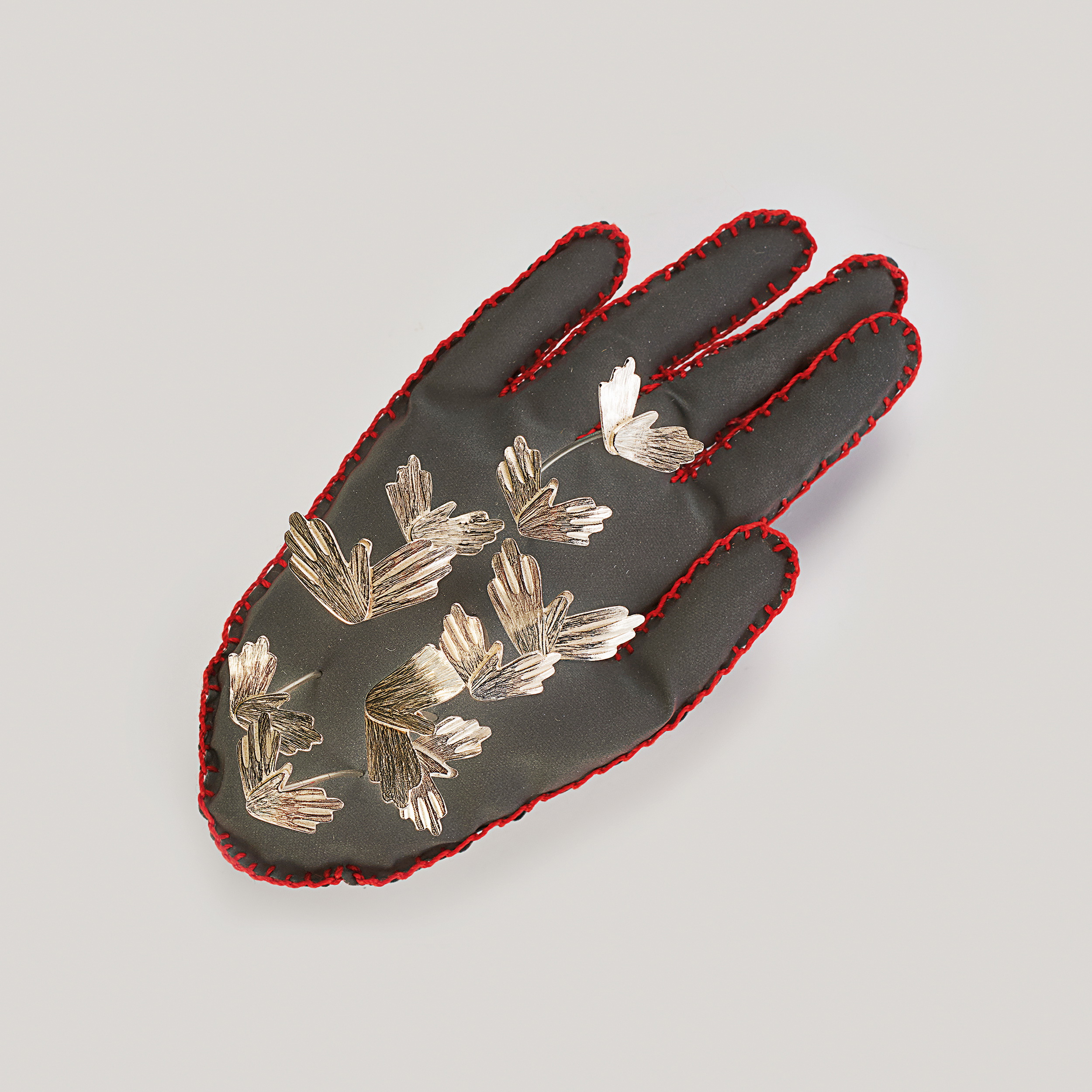 Martina Obid Mlakar – Slovenia
The Pillow of Touches brooch, reflective fabric, red thread, sterling silver, 13,7 g, 50 x 110 x 55 mm, 2022
Honourable Mention of the Director of the Gallery of Art in Legnica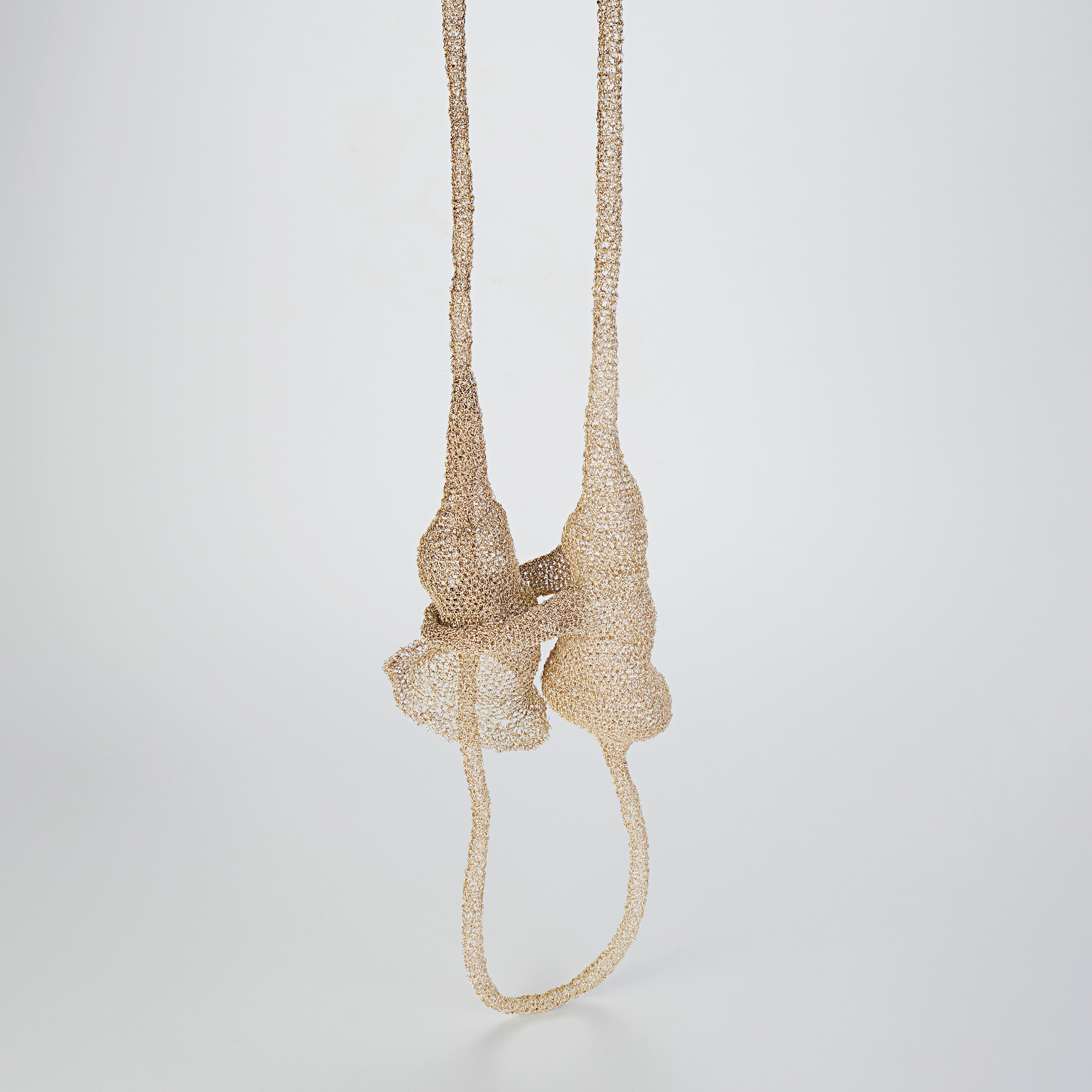 Jolanta Gazda – Poland
Is it safe to hug again? necklace, silver, 110 g, 450 x 150 x 70 mm, 2022
Hopea Company Award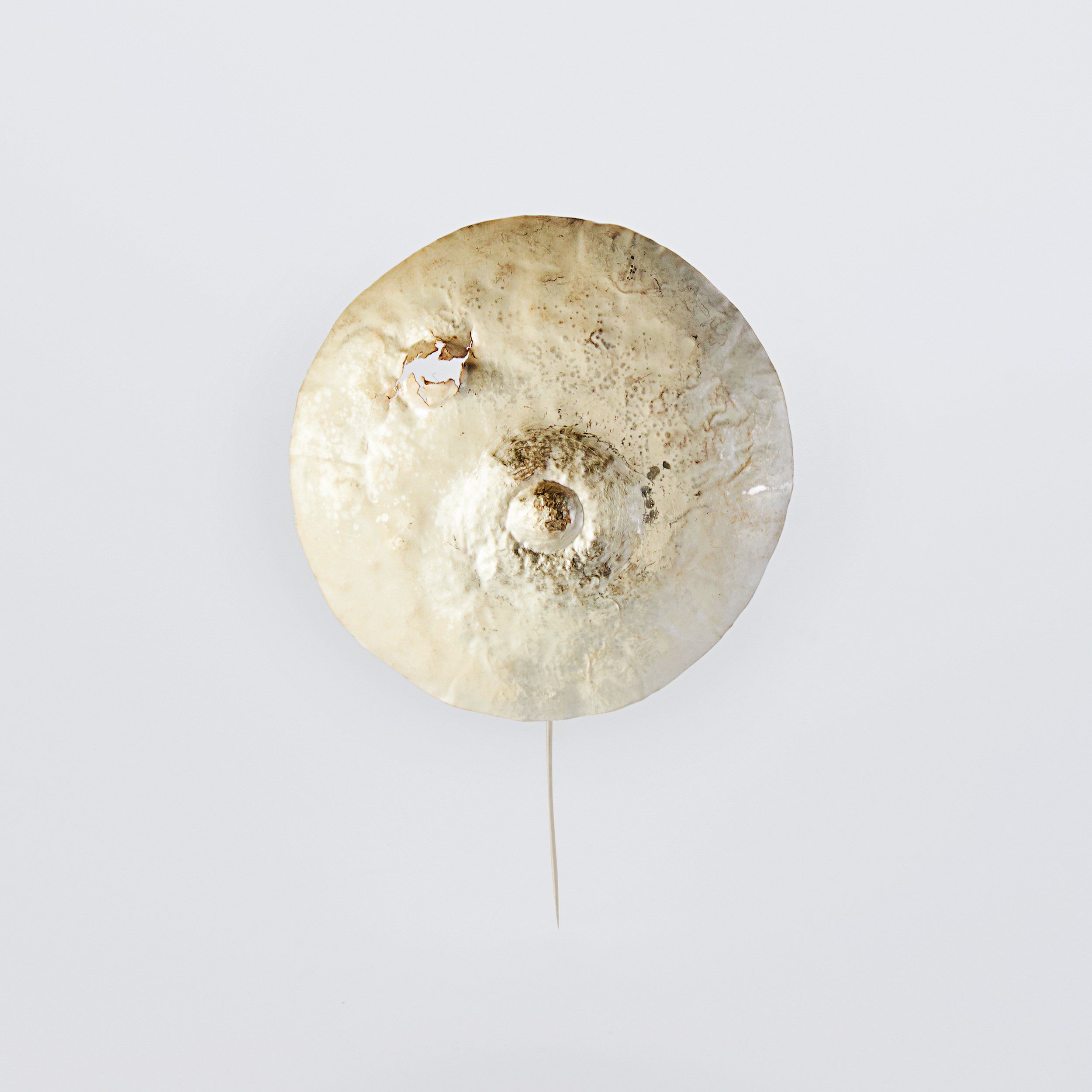 Agata Bieńkowska – Poland
Untitled brooch, silver 925, 24 g, 90 x 135 mm, 2022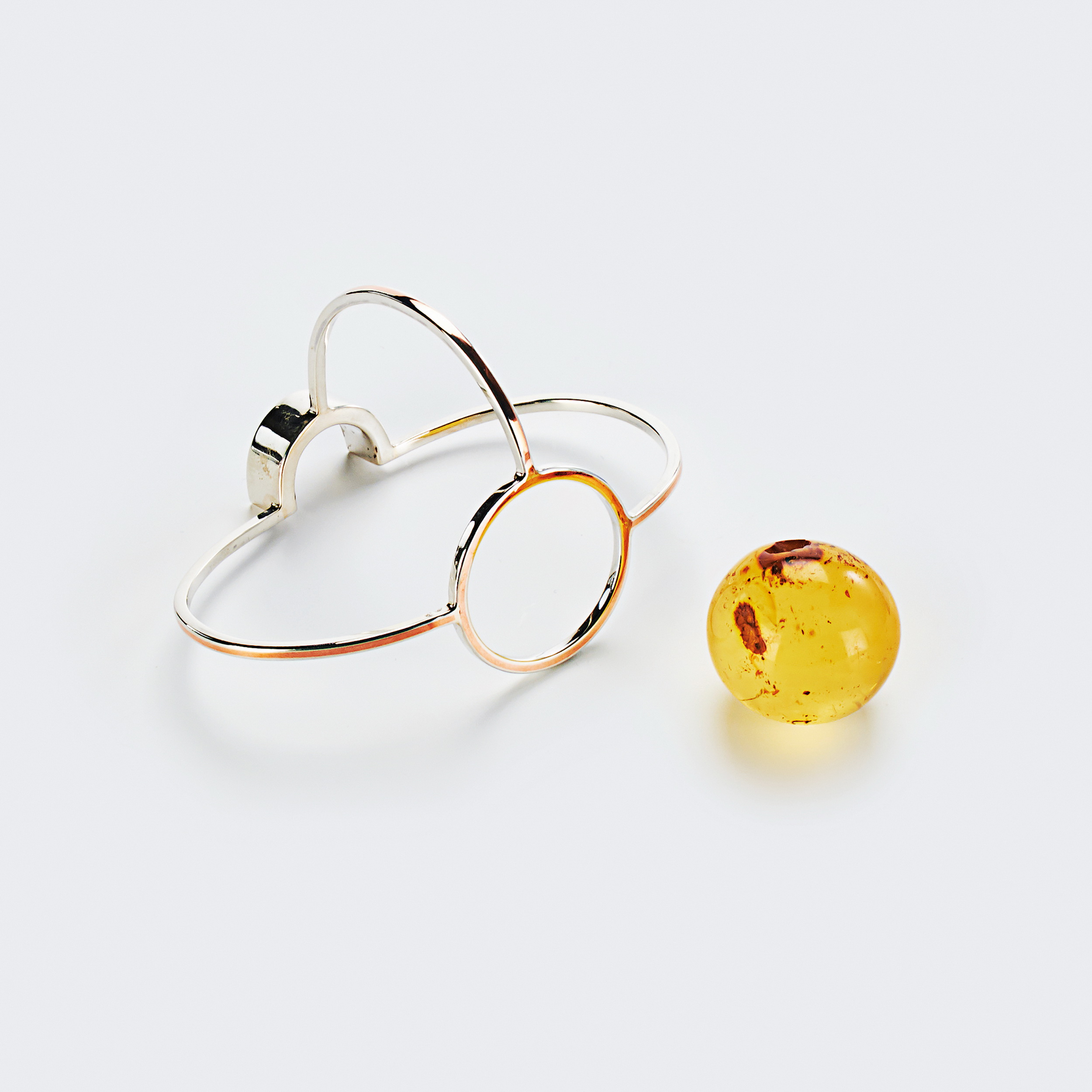 Andrzej Boss – Poland
Hand ring, silver, copper, amber, wood, 36 g, 90 x 60 x 60 mm, 2022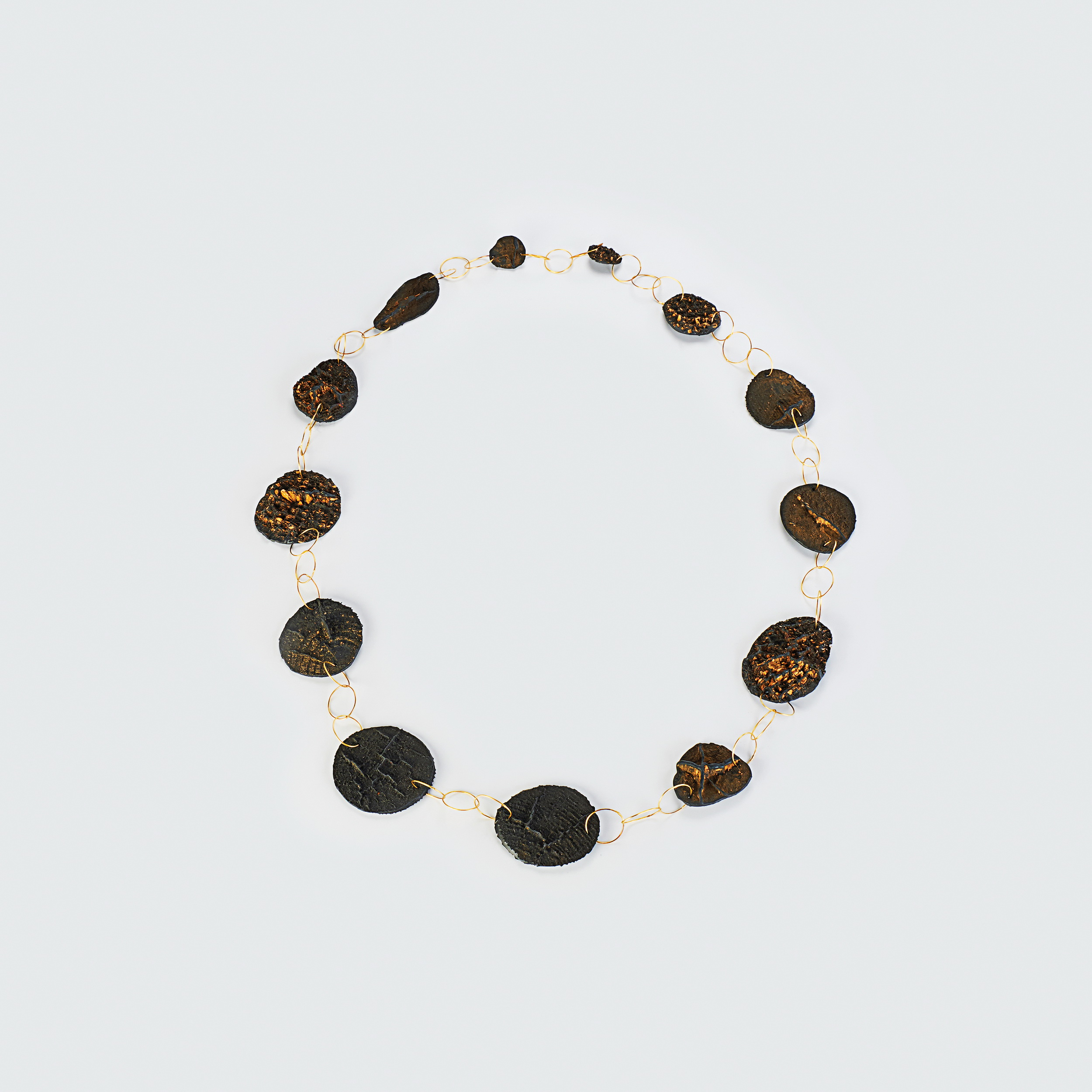 Anna Maria Eichlinger – Germany
Many necklace, 22 carat gold, silver, silicon, wood rests, 34 g, 4000 x 150 mm, 2017
Poem, written by Anna Eichlinger
My skin feels and perceives things.
It looks like surface of a wrinkled tangerine.
Darkened by the sun, dried by the wind, washed out by the water,
and textured by many fine lines, one realizes what it has witnessed before.
Its structure is reminiscent of a piece of parchment.
Thin, fine, delicate, and sensitive like an infant's skin.
With openness, it encounters other structures and surface.
Scanning and touching, it senses their experiences and decay.
Transience is a morbid beauty, which tells stories.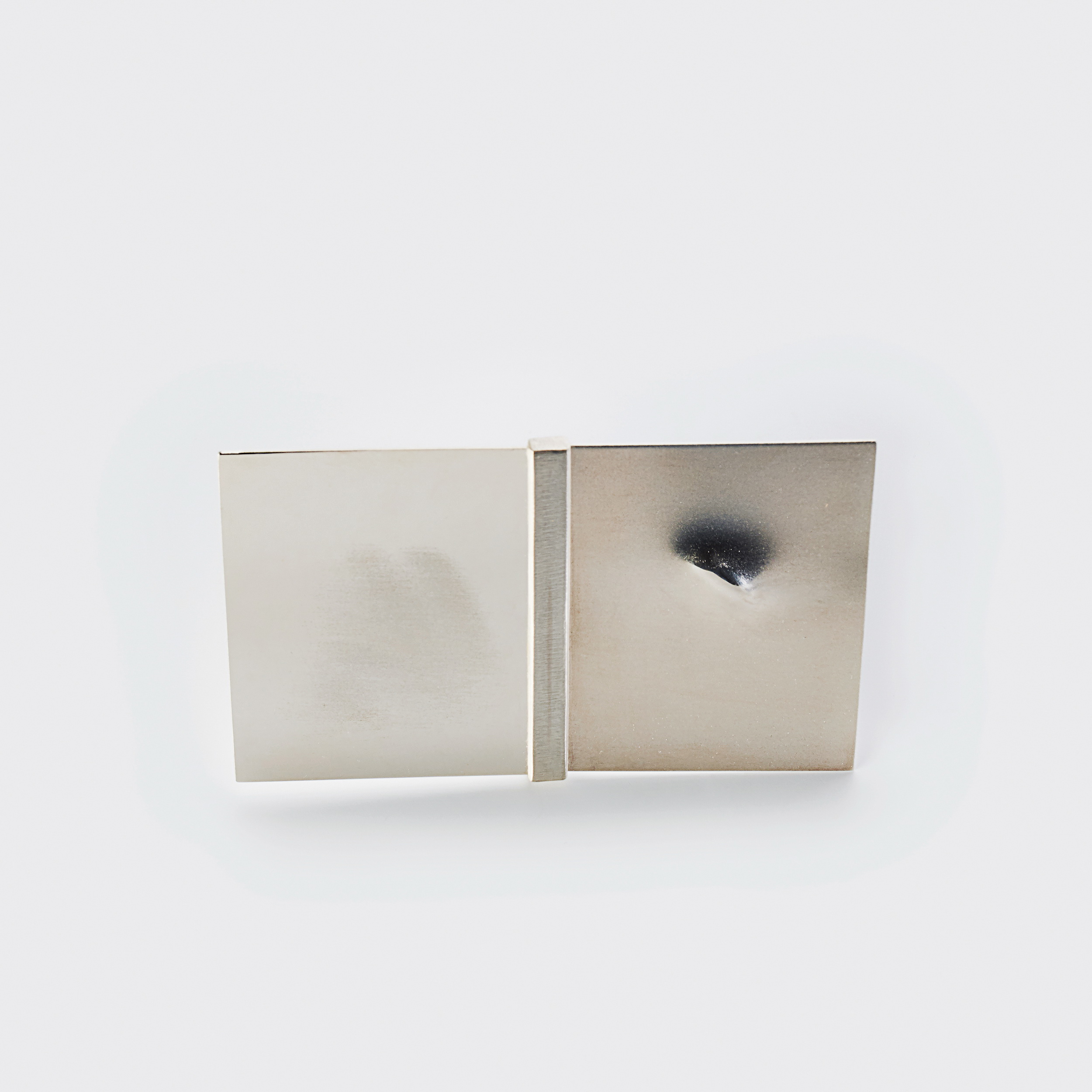 Bogumiła i Andrzej Adamscy – Poland
Life, Motherhood, Breath diptych brooch, sterling silver, 23,5 g, 78 x 50 x 8 mm, 2022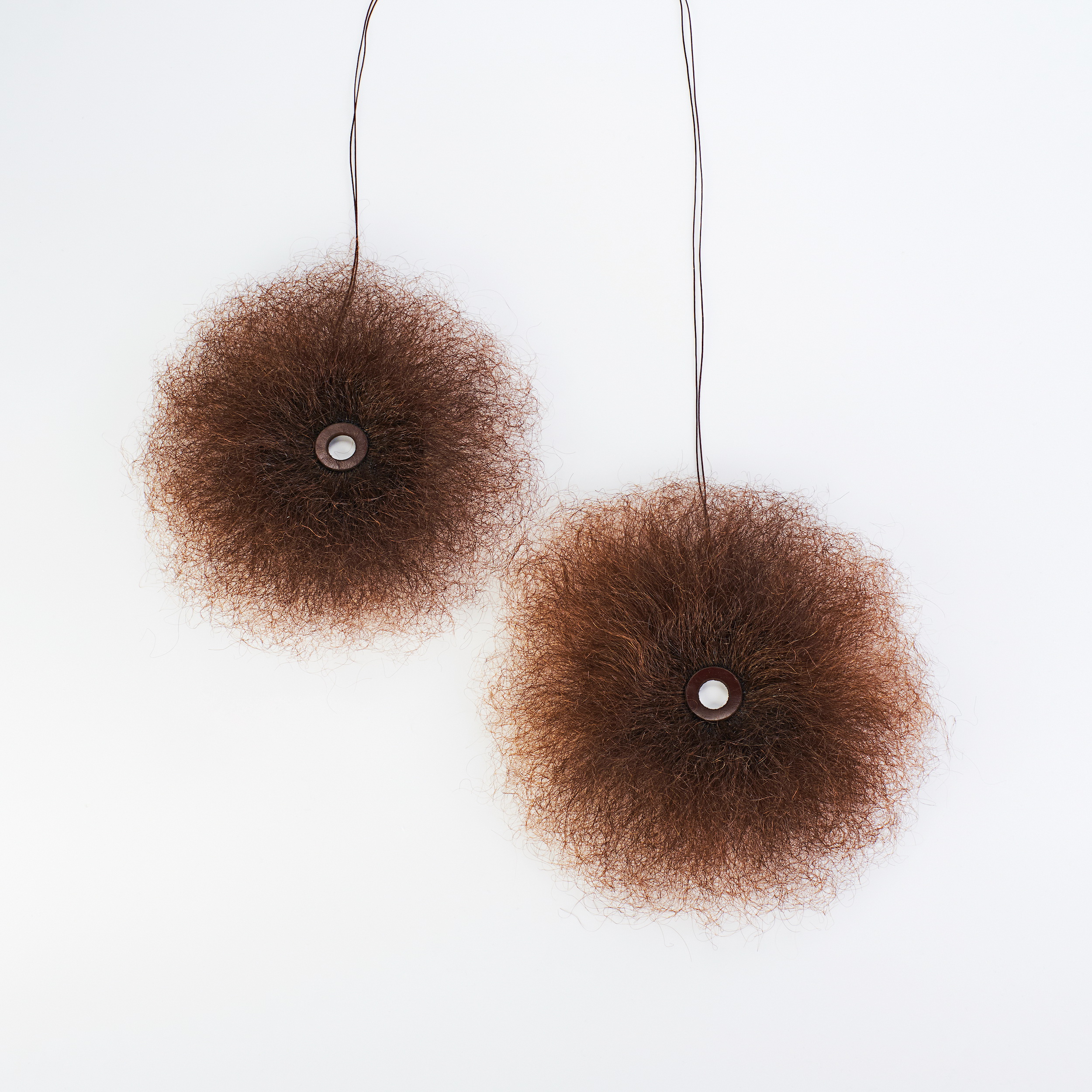 Carla Castiajo – Portugal
Sensual Sensation necklace, human hair, net, leather, oxidized silver, thread, 5,6 g, 350 x 350 x 250 mm, 2022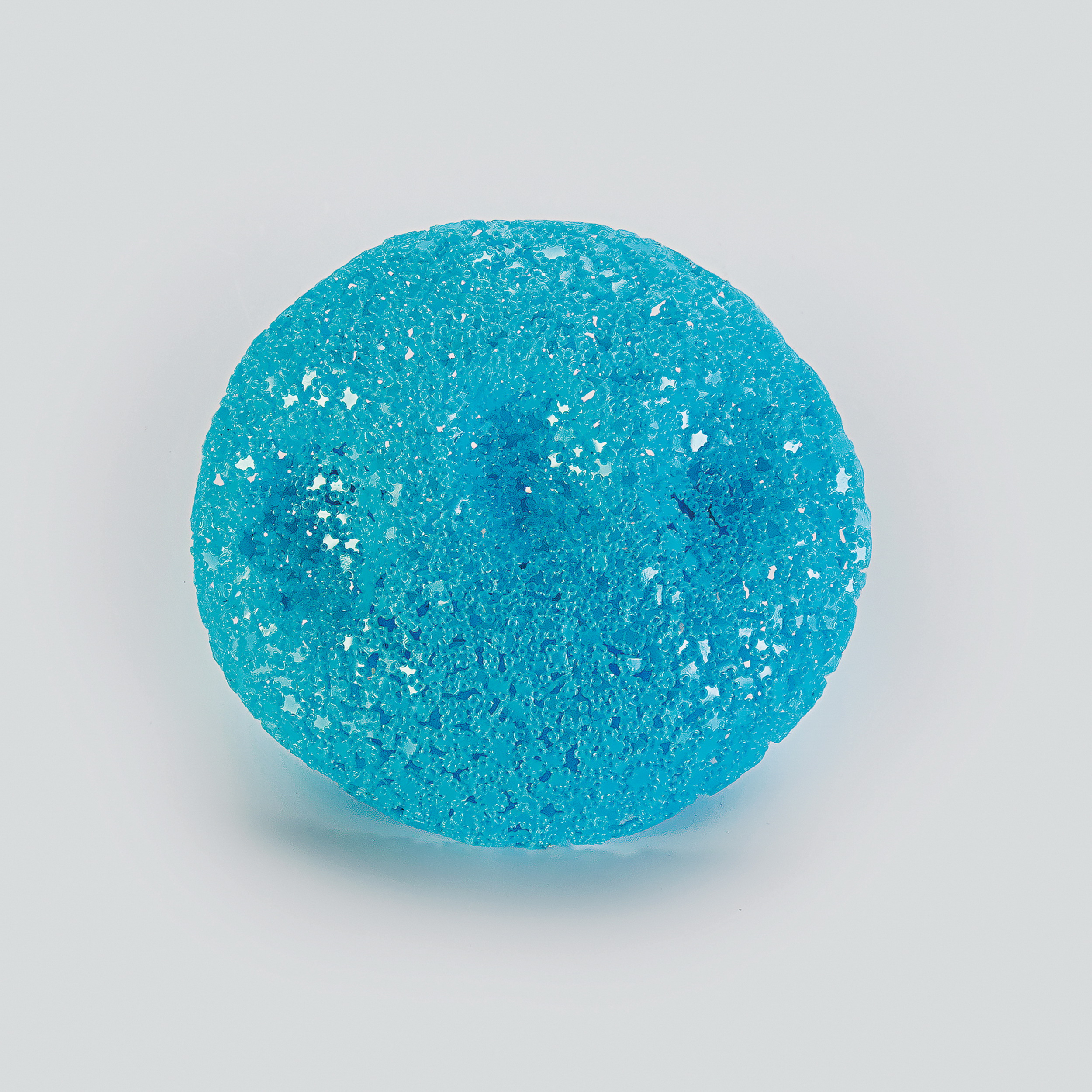 Elena Gorbunova – Russia
Cuddle brooch to be in touch, blue HDPE, steel, 30 g, 90 x 60 x 30 mm, 2022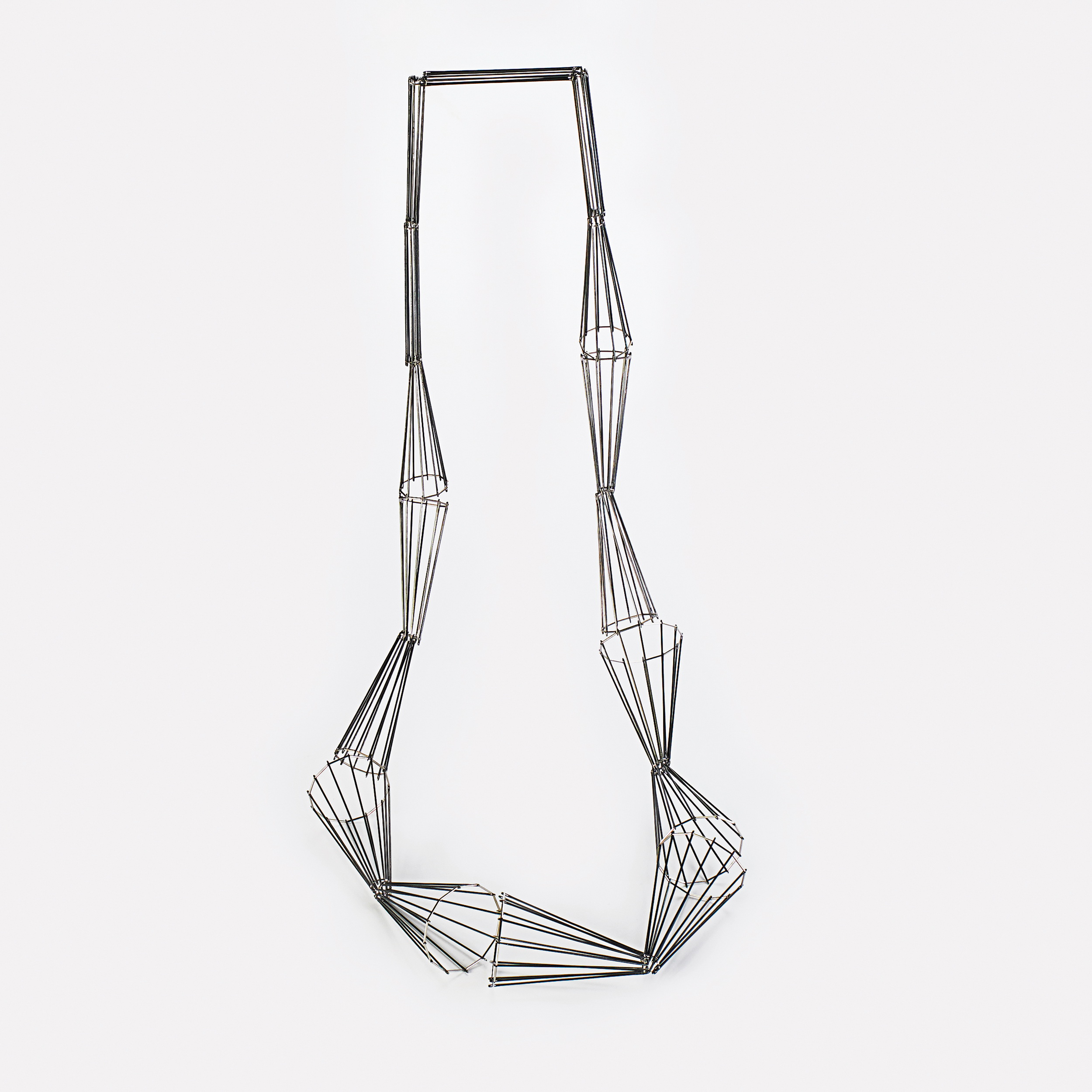 Eva Fernandez – Spain
Pins & needles 3 necklace, steel, stainless steel, nylon, oxidised silver plating, silver plated, 250 g, 500 x 120 x 40 mm, 2020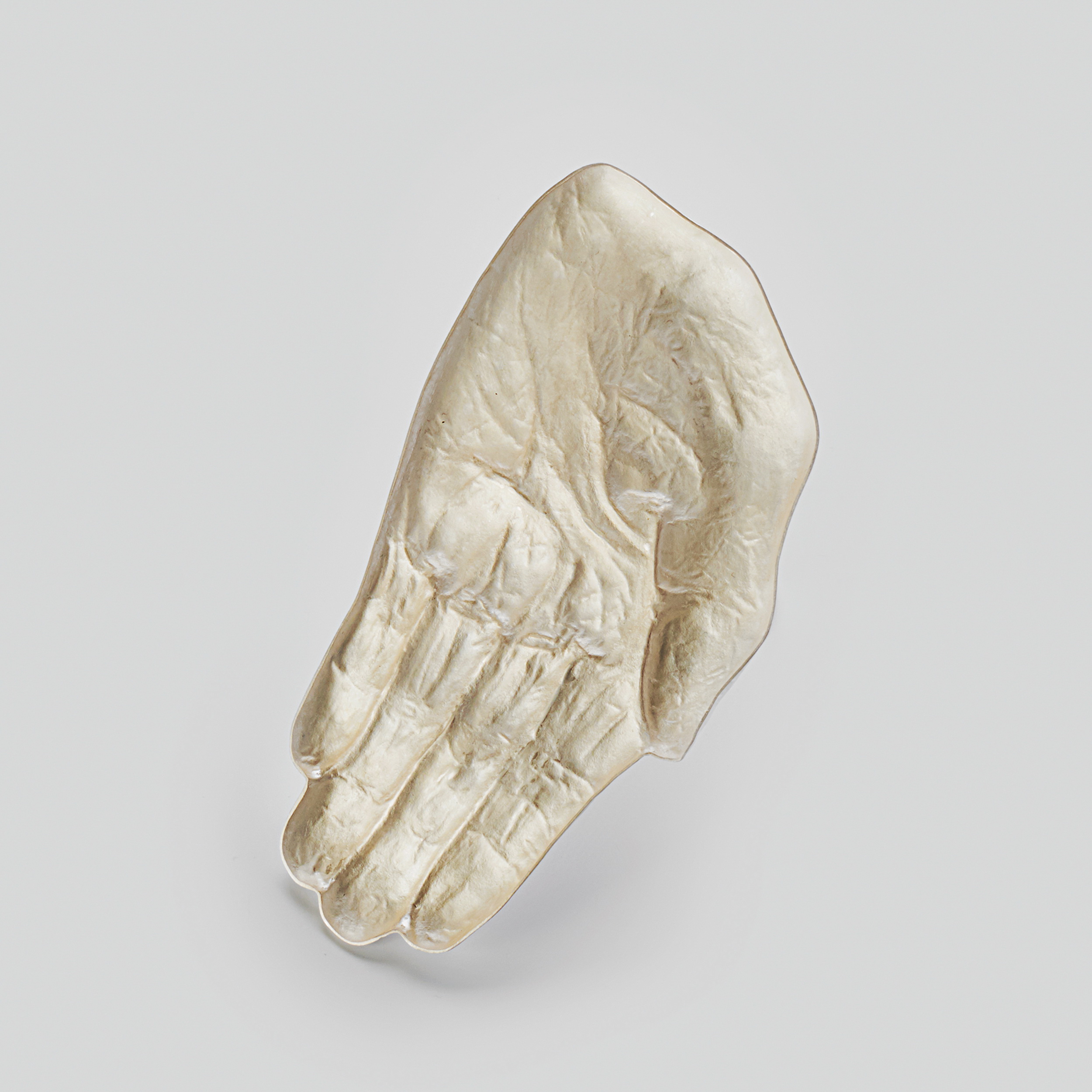 Laima Kėrienė – Lithuania
Mother's Blessing brooch, silver, 35 g, 65 x 125 mm, 2020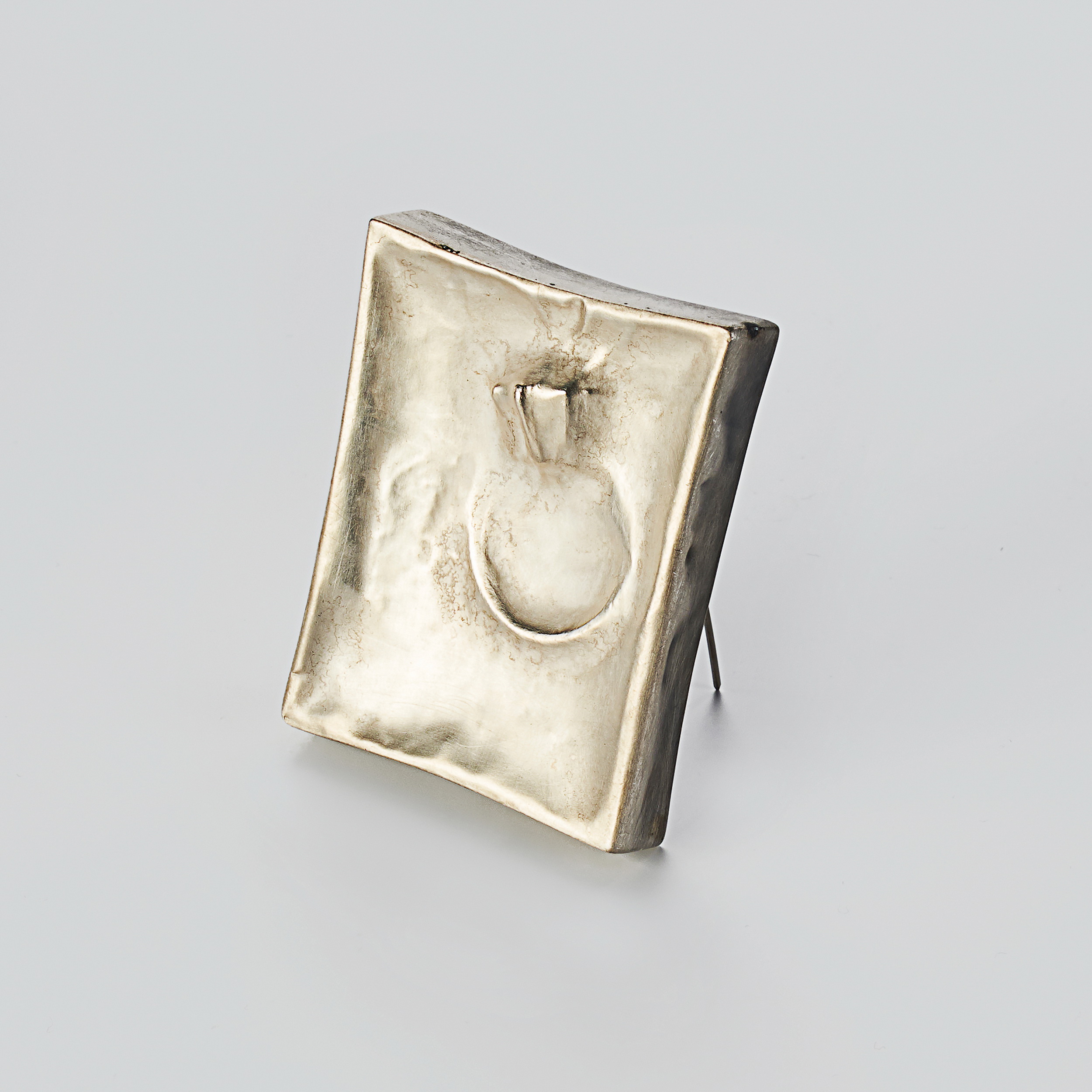 Mariana Bilbao – Spain
Another Language brooch, silver 999, sterling silver, steel needle, 47,72 g, 50 x 60 mm, 2022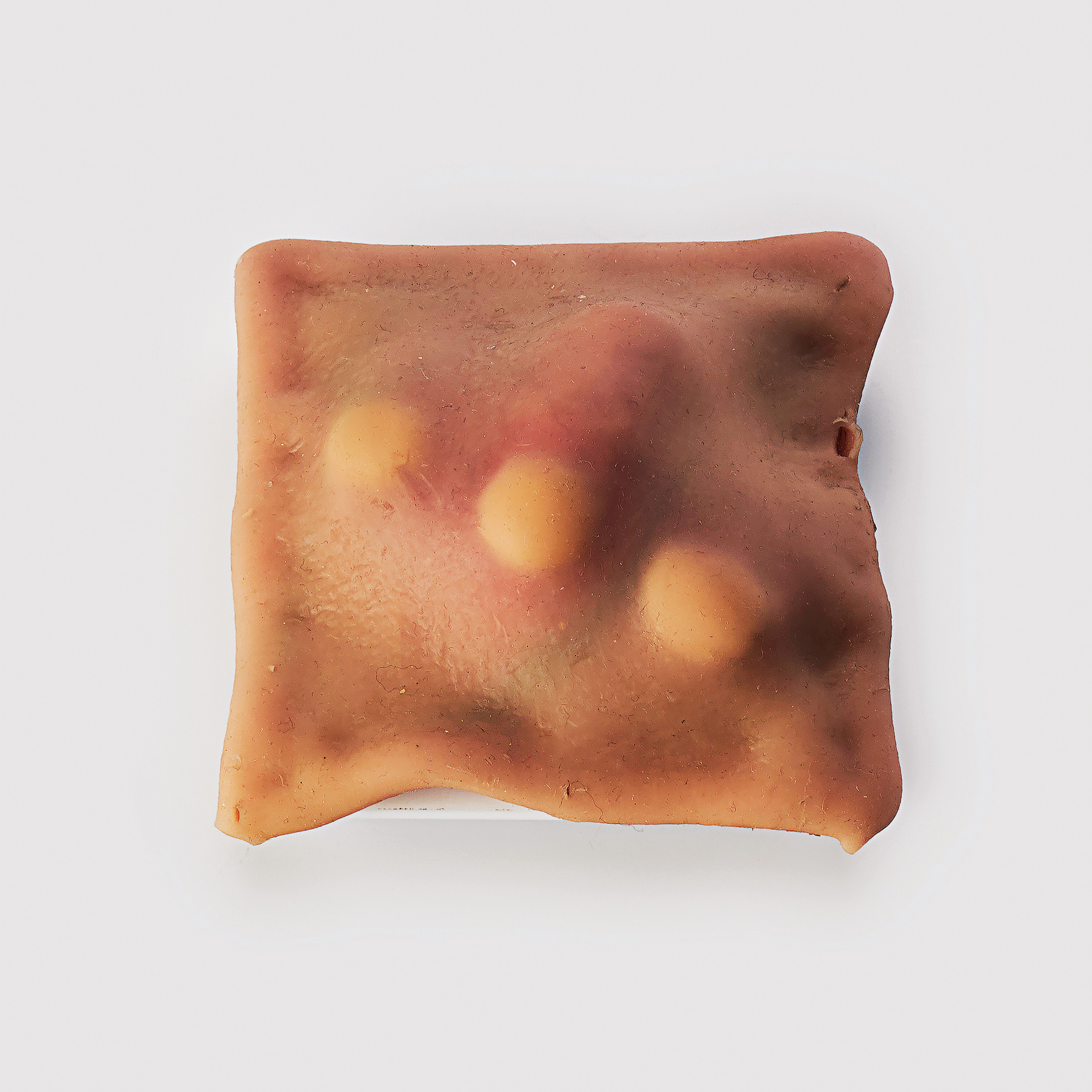 Martin Grosman – Czech Republic
Internal Touch, silicone, plexiglass, 200 g, 72 x 72 x 27 mm, 2022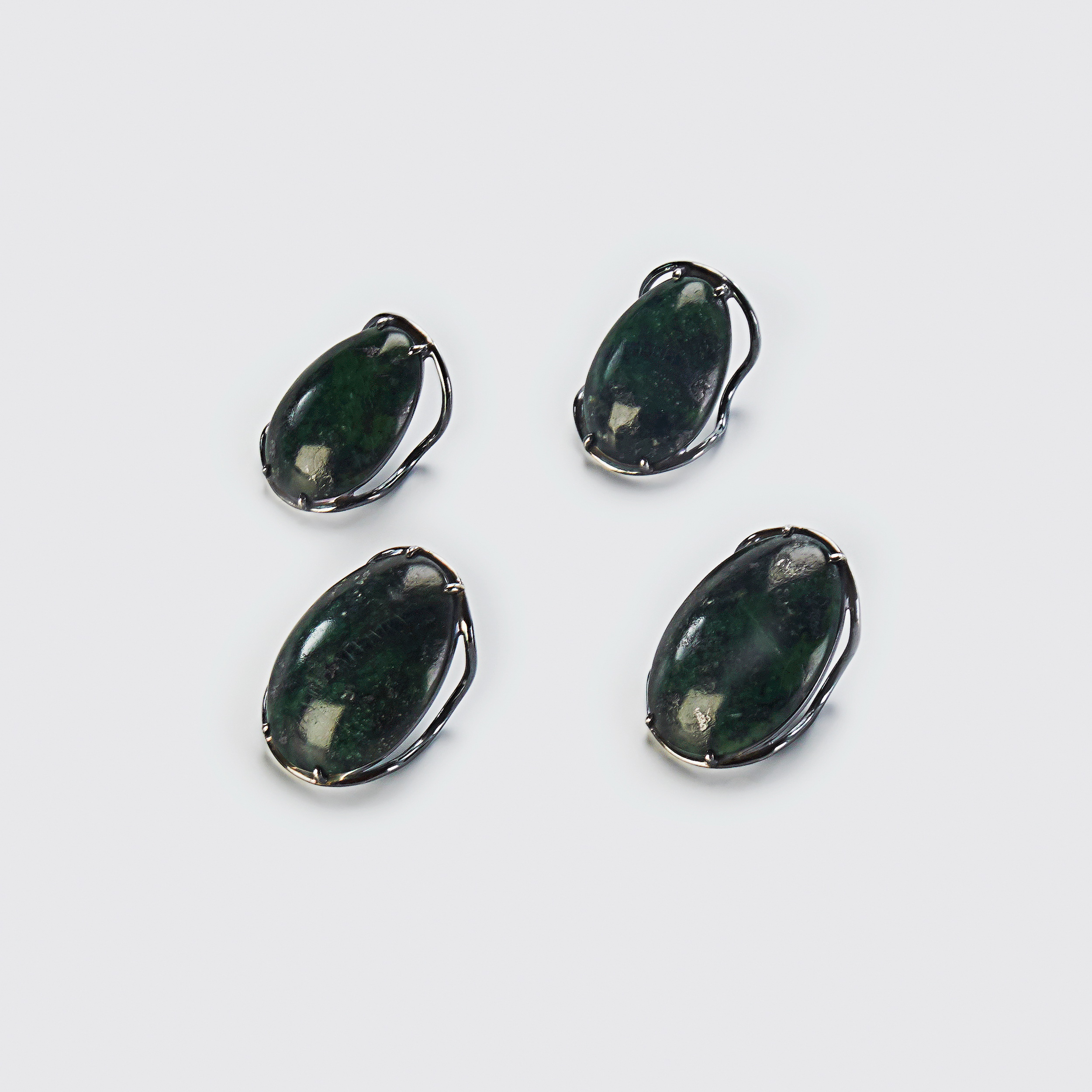 Michalina Owczarek-Siwak – Poland
To feel more, touch less set of overlays blocking the use of the phone, serpentine, silver, 20 g, 31 x 21 x 15 mm; 27 x 16 x 14 mm, 2022

Smartphones, social media, too much, too often. They block thoughts,  make us indifferent, devour our time, make our feelings shallow. Discard the phone, stop staring at the screen. Touch less to feel more!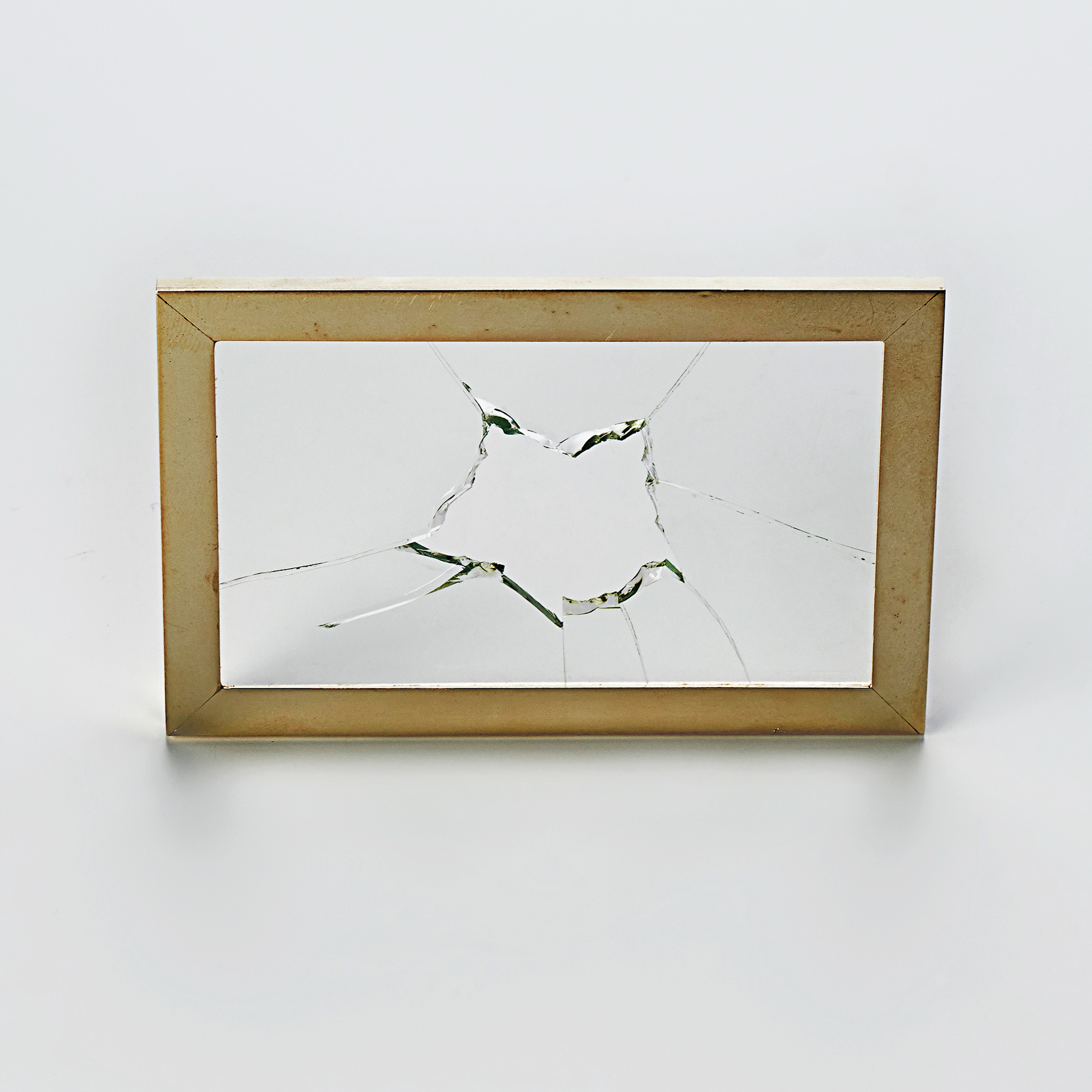 Violeta Adomaitytė – Lithuania
Broken Glass brooch (to be worn on the heart), silver, glass, 48 g, 80 x 50 x 10 mm, 2020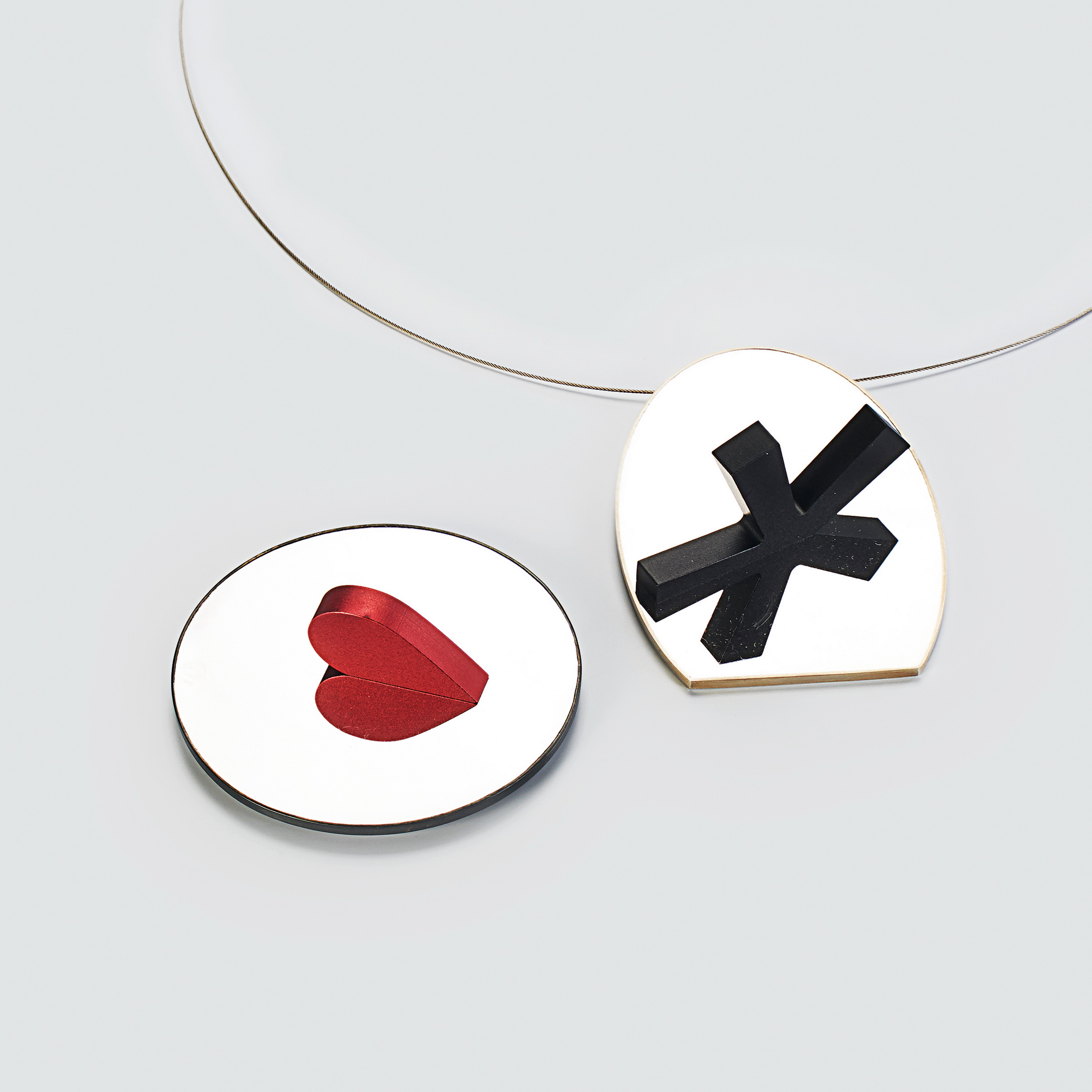 Yookyung Song – Republic of Korea
Merged Images I brooch, stainless steel, sterling silver, aluminum, magnet, 65 g, 80 x 80 x 23 mm, 2021
Merged Images II pendant, stainless steel, sterling silver, aluminum, magnet, 70 g, 70 x 98 x 35 mm, 2021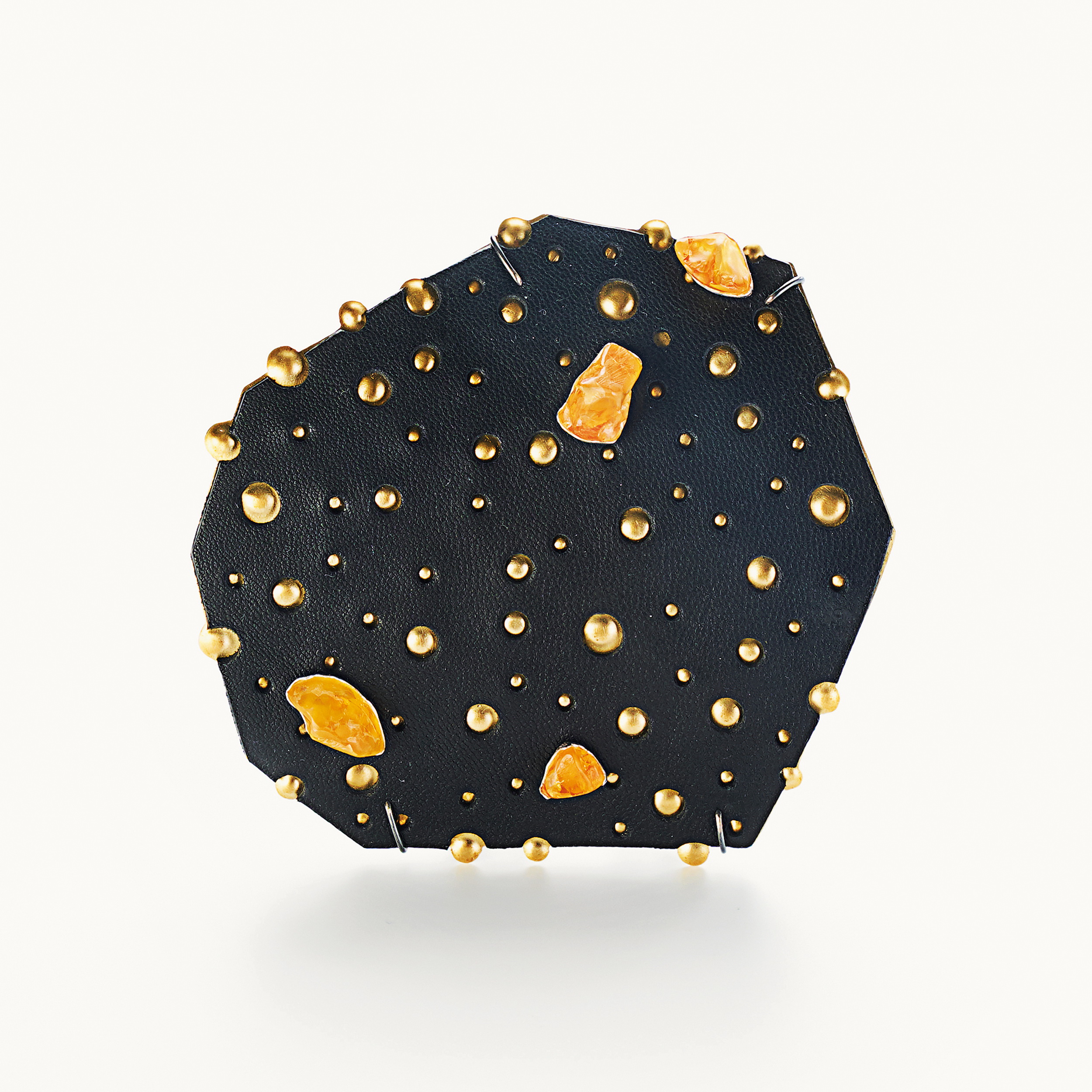 Young-Ji Chi – Republic of Korea
Dotted Brooch, sterling silver, fine silver, brass, amber, leather, 45 g, 95 x 90 x 20 mm, 2022