Amberif Design Award
Amberif Design Award 2017
Place: Satyrykon Gallery Rynek 35
Exhibition open till 11th June 2017
The contest`s theme "Periphery" took a closer look to the zone between set and free. An overwhelming number of 124 international artists from 25 countries travelled to this undefined area and explored options and limits. By sending in a design or photo they proposed the jury their inspiration, road map or point of view. What can happen when the rules break up? Which new structures will artists offer when nothing seems defined? The renowned international expert-jury followed the ideas, perspectives and pathways. Some cornerstones presented an overwhelming and unseen panorama and were awarded with a prize or a recognition. A number of inspiring proposals find themselves shortlisted in the catalogue and will equally be landmarks in the Periphery of the Amberif Design Award 2017.
In the centre certain rules, loops and rhythms are the guaranty for order. This inner focus is under control and things seem to be known and safe. But we are aware that these regular structures are surrounded by increasing entropy. The very momentum when the crystallized order starts to flow can also be identified as periphery. An aggregate condition of moving informality begins before everything evaporates further on. In this periphery control seems to get lost, irritation starts, irregularity and openness can happen. Unseen ideas can grow. Our creativity is equally liquid where these two spheres meet.                                                                                                                                               Resin as a material has the unique ability to leave its set structure behind as well, to pour out of its order and reach the periphery and turn into amber. In this flow enrichment is achieved. How can we interpret amber within jewellery to represent our understanding of periphery and openness?
Barbara Schmidt
curator of the contest
THE GRAND PRIZE sponsored by Mr Paweł Adamowicz, the Mayor of the City of Gdańsk PLN 10,000:
Marcin Tymiński, Poland
THE AMBER PRIZE sponsored by the International Amber Association 1 kg of amber:
Annelise Mercier, France
A direct honesty in the carving of the faces with a rough sculptural quality. The piece demonstrates an intuitive and sensitive handling of this special media.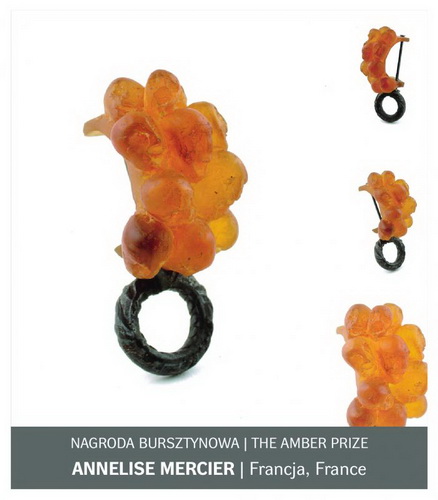 THE SILVER PRIZE sponsored by the KGHM Polska Miedź S.A. 1 kg of silver:
Susanne Elstner, Germany
The jury especially appreciated the contrast between the organic charcoal and amber elements, and the colour difference between the design's dark density and light transparency. The working of the material suggests an interesting movement which will be augmented when worn on the body.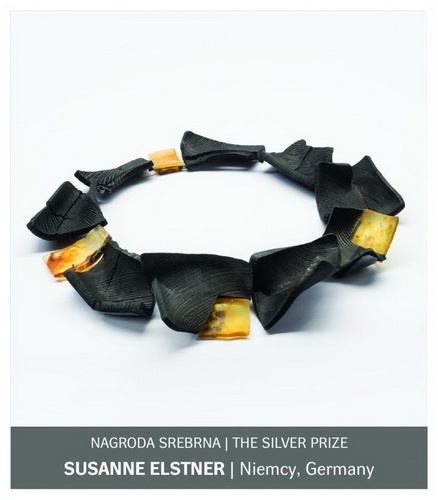 HONORARY MENTIONS
Maren Giloy, Germany
The Jury agreed this design exemplified the versatility and understanding of amber as a rough or polished material.
Miron Kutarba, Poland
The Jury appreciated this crisp modern design which references the changing state of amber from liquid to solid.